Promotion Period: 20 Jan to 30 Apr 2022
In conjunction with the first anniversary of the Amway Privileged Customer (APC), Amway brings you the APC Renewal Promotion!
Who?
All APCs who registered in 2021 are eligible for this promotion.
How?
Buy any Coreline product (Nutrilite, XS, ARTISTRY, G&H, Satinique, Home Care or Home Tech) online or at any Amway Shop during the promotion period to enjoy free renewal of your APC membership.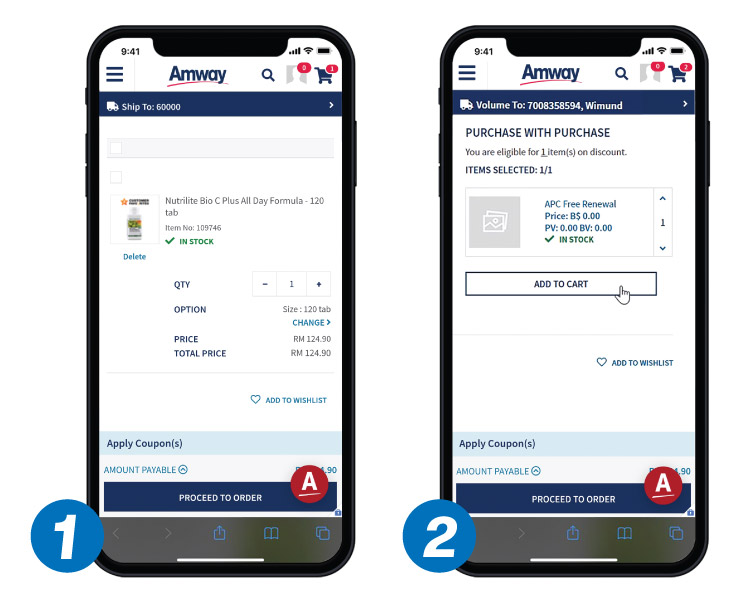 To enjoy this promotion online:
Step 1
Add any Coreline product (with PV/BV, no minimum purchase) to your shopping cart.
Step 2
Go to your Shopping Cart page, make sure you add the free APC membership renewal promotion into your shopping cart (PWP) and checkout. That's it!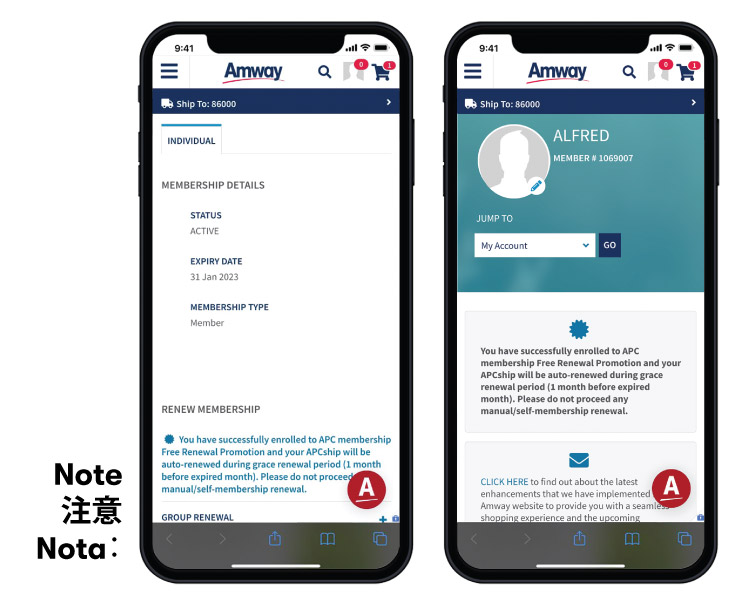 NOTE: After checkout, APCs will receive a notification on the successful purchase of their free APC membership renewal in their My Account landing page and Renewal page.
To enjoy this promotion at shop:
APCs may also enjoy this promotion at any Amway Shop. Just pay for your purchase and let the cashier know you would like to renew your APC membership for free. That's it!
Terms and conditions
All Malaysia & Brunei APCs who signed up from Jan – Dec 2021 are eligible for this promotion.
This promotion is only applicable for early and on time renewal, and is not applicable for late renewal APCs. We strongly encourage APCs to take advantage of this PWP for the early and on time renewal of their membership.
Whether the promotion was purchased online or at shop, please take note that the change in the APC's membership renewal period will not be immediately reflected in the Renewal page. An APC's membership will only be auto-renewed (and the status of their membership renewal updated) during the grace renewal period (1 month before the APC's membership expiry month). For example, if an APC's membership expires in July 2022, the status of the APC membership will be updated in June 2022.
For APCs who already signed up for auto renewal, yet purchased this promo, Amway will refund the auto renewal fee in the form of a credit eCoupon worth RM20 if the auto renewal fee was charged to your credit card. The refund will be made one month after the expiry month of your APC membership. For example, if APC Alan's membership expired in July 2022, and his credit card gets charged for the auto renewal fee in June 2022, Amway will refund him in Aug 2022.
If the status of your APC membership renewal is not automatically updated in the My Account > Renewal page (under the Membership Details section) in the same month that your APC membership expires, you may send your enquiries to myhelpdesk@amway.com with the following subject: APC Renewal Promotion Enquiries.