Available 1 – 30 June 2022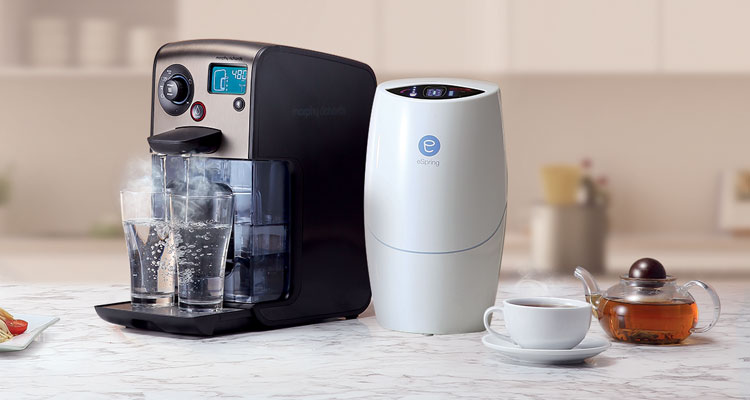 BUY eSpring (100188) OR eSpring & Morphy Richards Redefine Hot Water Dispenser Bundle (292799) GWP Color King Sauce Pan (311895) worth RM140/B$48.40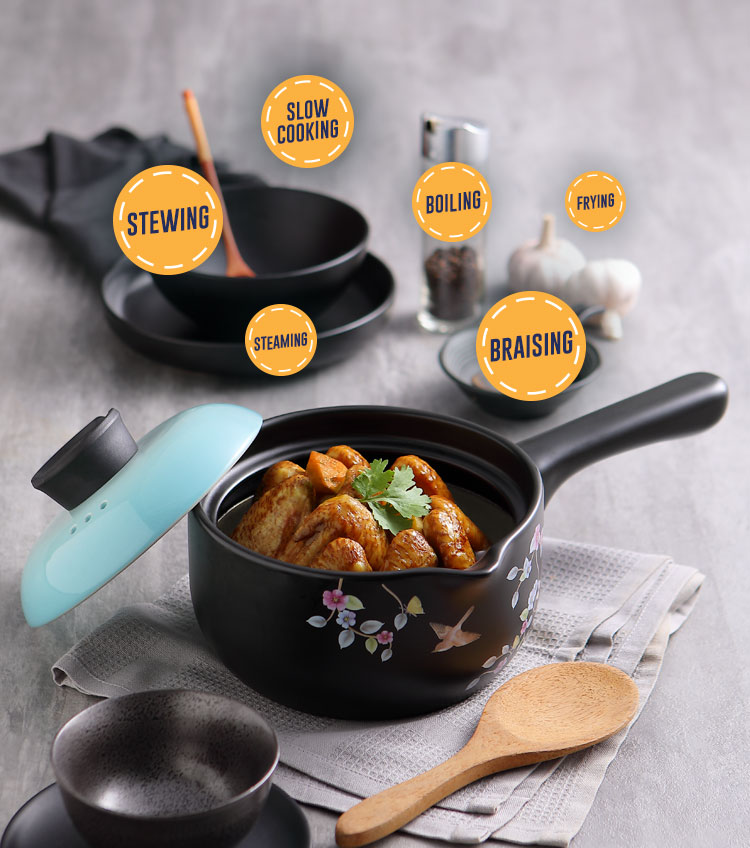 Great for various cooking methods: braising, stewing, slow cooking, steaming, frying and boiling.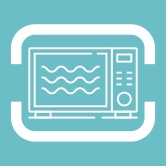 oven- and microwave-safe (remove the lid)
Salmon Oat Porridge
Ingredients:
100g oats
400ml water
2 cloves garlic, sliced
150g salmon
2 button mushrooms, sliced
Peas, corn and carrots (as desired)
Salt and pepper
Instructions:
Boil the oats in water.
In a separate frying pan, stir fry the garlic and salmon. Add the mushrooms.
When the oats are boiled, add the fried ingredients into the oats.
Stir in the peas, corn and carrots.
Season with salt and pepper to taste.
---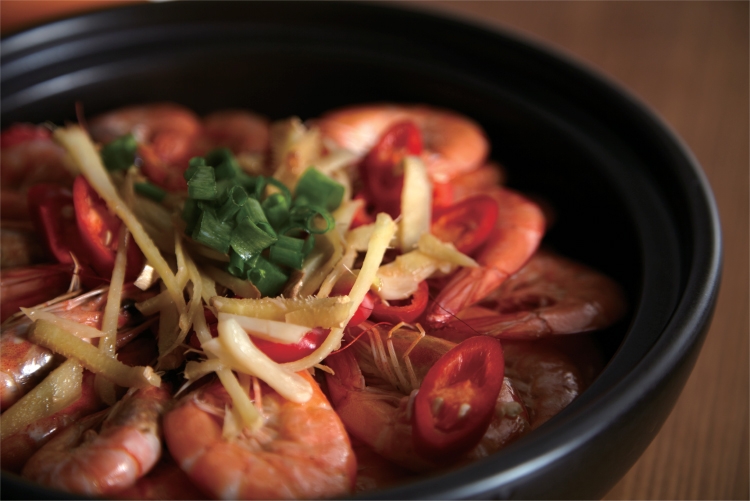 Braised Prawns With Ginger
Ingredients:
500g prawns
1 stalk spring onion, chopped
2 inches ginger, julienne
5 cloves garlic, julienne
1 red chilli, julienne
1 tbsp cooking oil
Salt to taste
Instructions:
Clean the prawns leaving the shells on and set aside.
Heat the ceramic pot. Pour in some cooking oil, then add spring onion, ginger and garlic. Fry until fragrant.
Add the prawns, mix well, then cover. Braise for approximately 3 – 4 minutes, occasionally stirring, until the steam comes out from the vent.
Lastly, add red chilli and salt to taste. Serve.
---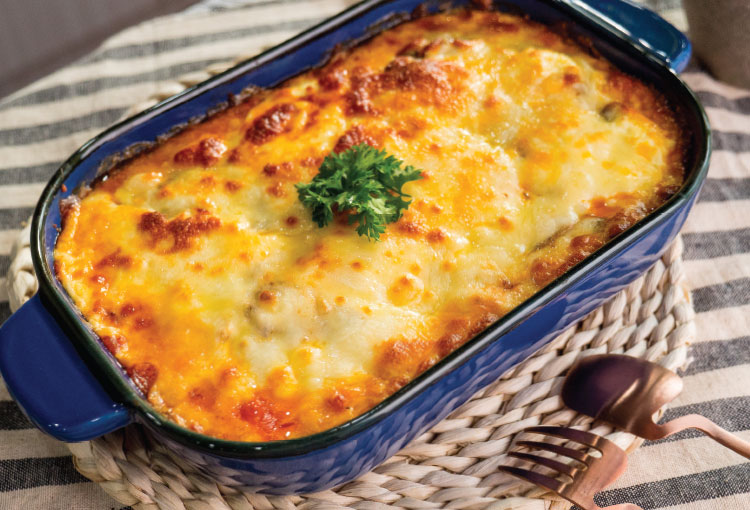 Zucchini Lasagne
Ingredients:
450g lean minced beef
1½ tsp salt
1 tbsp olive oil
½ large onion, chopped
3 cloves garlic, minced
1 can tomatoes, crushed
2 tbsp fresh basil, chopped
Black pepper to taste
3 medium zucchini, sliced 1/8" thick
1½ cup ricotta cheese
¼ cup Parmigiano Reggiano cheese
1 large egg
4 cups mozzarella cheese, shredded
Instructions:
In a medium sauce pan, brown meat and season with salt. When cooked, drain in a colander.
Add olive oil to the pan and sauté garlic and onions for about 2 minutes. Return the meat to the pan, add tomatoes, basil, salt and pepper. Simmer on low for at least 30-40 minutes, covered. Do not add extra water, the sauce should be thick.
Meanwhile, slice zucchini into 1/8" thick slices, lightly add salt and set aside for 10 minutes.
Preheat a gas grill or grill pan to medium high and grill for 2-3 minutes per side, until slightly browned. Place on paper towels to soak any excess moisture.
Preheat oven to 190°C. In a medium bowl mix the ricotta, parmesan and egg. Stir well.
In a casserole dish, spread ½ cup of sauce on the bottom and layer the zucchini to cover. Spread ½ cup of the ricotta cheese mixture, then top with 1 cup of the mozzarella cheese and repeat the process until all your ingredients are used up.
For the last layer, top with the remaining zucchini and sauce, cover with foil and bake for 30 minutes. Uncover the foil and bake for another 20 minutes (to thicken up the sauce) then add the remaining 1 cup of mozzarella and bake until melted, around 10 minutes.
Let stand for about 5-10 minutes before serving.
---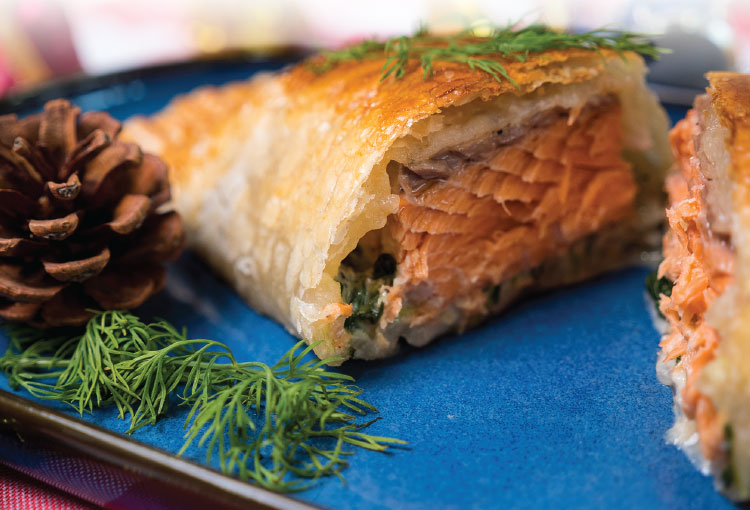 Salmon Wellington
Ingredients:
200g salmon fillet
1 pack spinach
1 clove garlic, chopped
100g cream cheese
100g Parmesan cheese
30g breadcrumbs
Salt & pepper to taste
Egg wash to brush
1 sheet puff pastry
2g fennel
3g dill
Instructions:
Marinate the salmon with salt and pepper.
Stir fry the spinach and garlic with butter and olive oil (to stop the butter from burning).
Add in some breadcrumbs, cream cheese and Parmesan cheese.
Sprinkle in some fennel and dill, mix well.
Spoon the cheesy spinach over the top of salmon.
Fold one side of the puff pastry over the top, repeat on the opposite side, brush with more egg wash.
Bake the salmon wellington for 20 to 25 minutes in a preheated oven at 200°C until deep golden brown.
---
Product Specifications:
Suitable for gas and electric cookers, dishwasher and freezer
Materials: Ceramic, Bakelite
Capacity: 1600ml
Colour: Blue
Lid: 34.5cm (L) x 18cm (D) x 10cm (H)
Pot: 17cm (D) x 6cm (H)
Terms & Conditions
Available in Malaysia and Brunei only, while stocks last.
Open to Platinums & Above from 1 Jun (10am onwards) – 2 Jun 2022, limited to 6ea per ABOship per day.
Open to all ABOs & APCs from 3 Jun 2022 (10am onwards) – 30 Jun 2022.
Limited to 3ea per APCship per day.
To buy, visit www.amway.my