01 AUG 2021
2 MINS READ
1374 VIEWS
24 SHARES
Last Call Nutrilite Promo
Valid from 01 AUG 2021 - 31 AUG 2021
Get the Nutrilite 7 Days HEBAT Mama pack at RM5/B$2 (worth RM176.40) when you buy 2x Nutrilite Mixed Collagen Peptide Drinks (119293)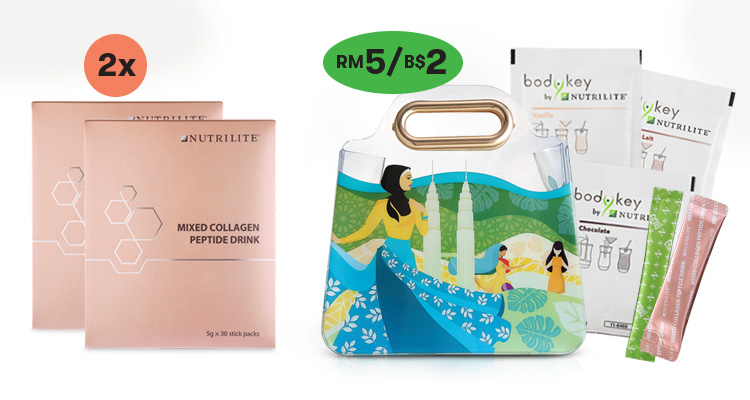 The HEBAT MAMA pack contains
7x sticks/pouches each:
• Mixed Collagen Peptide Drink
• Mixed Fiber Powder
• BodyKey Meal Replacement Shake (3x Chocolate, 2x Vanilla & 2x Café Au Lait)
Terms and conditions
This purchase with purchase (PWP) is available in Malaysia and Brunei, while stocks last. Limited stocks.
Open to all ABOs and APCs from 1 Aug (10am onwards) – 31 Aug 2021. No pre-launch and product limit for ABOs. Limited to 3ea per APCship per day.
No PV/BV or eCoupons applicable for the HEBAT MAMA pack PWP purchase.
If the HEBAT Mama stocks run out before 31 Aug 2021, this promo will be no longer available.
As per its product label, the HEBAT MAMA pack is meant to expire by Q1 2022.
Important: Due to system restrictions, the eCoupons given for the Jun-Jul 2021 HEBAT Mama and BK Jump Start Kit promos cannot be used together in the same order with this promo. But separate orders are allowed.
To buy, visit
www.amway.my
---