Get the Nutrilite Kids 4-in-1 Plus for RM15 / B$5.20 when you buy the Noxxa Electric Multifunction Pressure Cooker.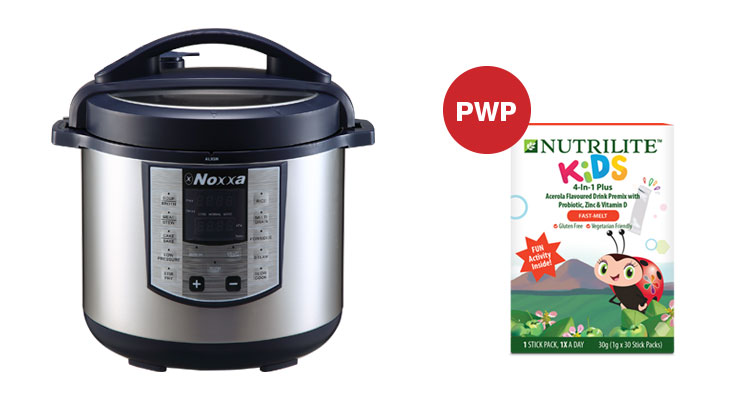 The Nutrilite Kids 4-in-1 Plus:
Contains 30mg Vitamin C, 1mcg Vitamin D3, 2.6mg Zinc, 1 Billion CFU/G Probiotic (Bifidobacterium animalis lactis HN019)
Fast-melt powder form
Convenient stick packs
Vegetarian-friendly, gluten & dairy-free
No artificial colours, flavours or preservatives
Has a fun activity on the packaging for kids
Notes: PV/BV not given and product expires in March 2022.
Terms and conditions
This promotion is valid in Malaysia and Brunei, while stocks last on a first come, first serve basis.
Open to Platinums & Above: 1 Oct (10am onwards) - 2 Oct 2021, limited to 6ea per ABOship per day.
Open to all ABOs and APCs from 3 Oct (10am onwards) – 31 Oct 2021. Limited to 3ea per APCship per day.
To buy, visit www.amway.my