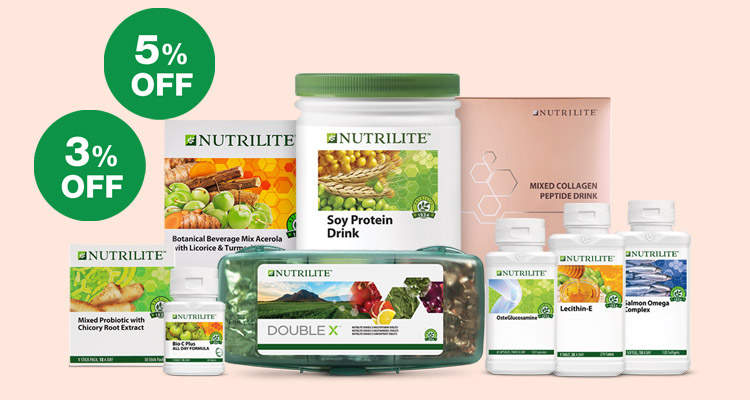 Buy selected Nutrilite products & enjoy discounts:
Option 1: 3% OFF
AP RM350 / B$120 & above* (RP RM437.50/B$150)
Option 2: 5% OFF
AP RM500 / B$171 & above* (RP RM625/B$213.80)
Note: Excludes Bio C Twin Pack, Cal Mag D Twin Pack, BK Jump Start Kit, Post Natal Care Set, BK Meal Replacement Shakes (all flavours), Kids BB Fruits & Vegetables, Iron Folic, Cal Mag D Plus, Daily (60tab), BK Organic Chia Seed, TH Bee Pollen, TH Formulation for Men / Women, TH Baby Oil, ALP subscriptions, BSM and sales aids which are non-PV/BV. The Nutrilite Health Bundles promotions (309114 / 309115) in are also excluded.
*PV remain, AP/BV/RP will be discounted accordingly.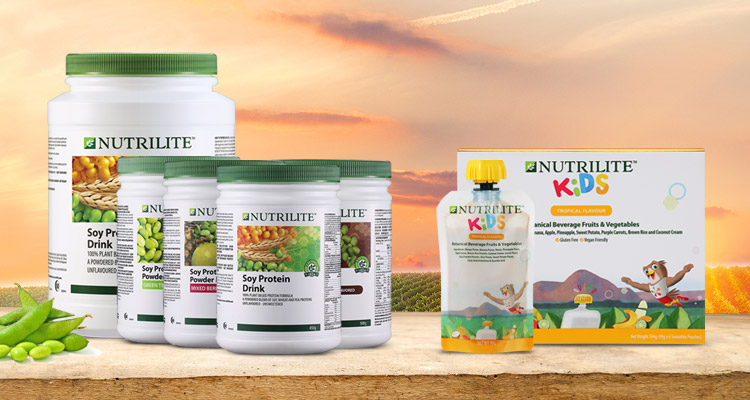 Remark: Protein Bundle (Promotion 1) is also a qualifying SKU for this promotion (Promotion 2) if it meets or exceeds either RM350/B$120 or RM500/B$171. However, the 3% or 5% discount is only applicable on the protein SKUs and not on the Nutrilite Kids Botanical Beverage Fruits & Vegetables.

Terms and conditions:
This purchase with purchase (PWP) is available in Malaysia and Brunei, while stocks last. Open to Platinums & Above from 1-2 Sep 2021 (10am onwards). Open to all ABOs and APCs from 3 – 30 Sep 2021 (10am onwards). Only 3ea per APCship per day.
For new ABOs/APCs who sign up in Sep 2021 from the New ABO/APC Experience Programme, the 2nd & 3rd eCoupons do not apply for this promo.
To buy, visit www.amway.my