Available 1 Sep – 31 Dec 2023
Kickstart next year's 90 Nutrilite Years of Growth celebrations with our Special Edition Amway Loyalty Programme featuring 18 customised health bundles & products plus great value and rewards with your 6-month supply.
Choose from 18 customised health solution bundles & products:
3 Exclusive Gut Reset Big Health Bundles
Reset your gut for better health with these bundles.
Lean and Fit Bundle
Lipid Bundle
Gluco Bundle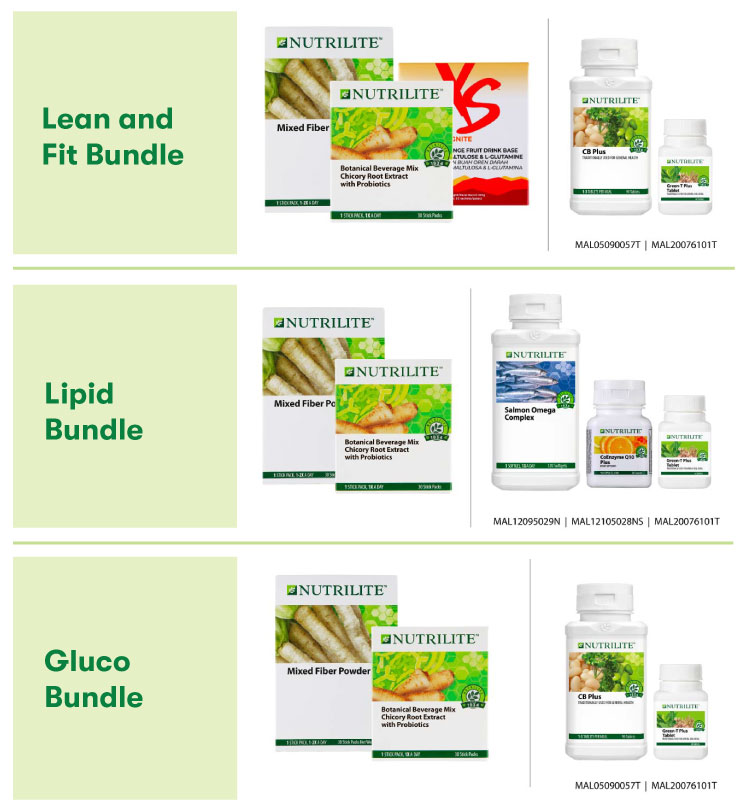 7 Solution-Based Bundles
Curated health & wellness solutions for various needs.
Fight F Bundle
Vitality Bundle
BodyKey By Nutrilite Meal Replacement Shake Bundle (2x)
Gut Reset Bundle
Mobility Bundle
Essentials Bundle
Glow Bundle

8 Single Hero
Single products to target your specific health needs.
1x Nutrilite Soy Protein Drink – 450g/500g
1x Nutrilite Soy Protein Drink – 900g
1x Nutrilite Mixed Soy Protein Drink With Peptides & Aloe Vera – 450g
1x Nutrilite DOUBLE X (tray/refill)
1x Nutrilite Bio C Plus All Day Formula – 120 tab
1x Nutrilite Salmon Omega Complex – 120 sg
1x Nutrilite Botanical Beverage Mix Cherry With Licorice & Turmeric
1x Nutrilite Mixed Collagen Peptide Drink – 5g x 30 sticks

How does it work?
Your subscribed products will be shipped to you on a monthly basis, while the eCoupons will be provided as below: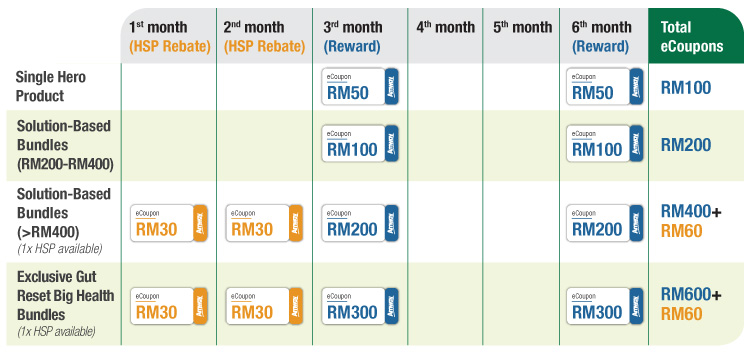 Read our eLeaftlet here for more info and visit our landing page to subscribe!
eCoupon Terms & Conditions
All reward eCoupons are valid to all Malaysian & Bruneian ABOs & APCs.
HSP Rebate eCoupons are valid in Malaysia only.
Each eCoupon is redeemable with any Amway products with no minimum purchase and no impact on PV/BV.
Each eCoupon is valid for 90 days from the date of issuance.
All eCoupons can only be used for online orders.
To buy, visit www.amway.my