Sunscreen is the unsung hero in your skincare routine. It defends your skin against a plethora of villains – sunburn, free radicals, skin ageing, dark spots, and pollution to name a few.
To show our favourite sunscreen some love, we've gathered 4 reasons to love ARTISTRY's latest sunscreen: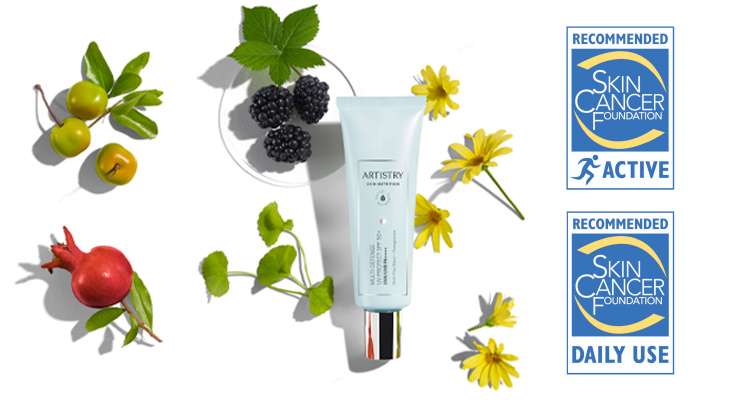 Reason #1: Multi-dimensional protection
ARTISTRY SKIN NUTRITION Multi-Defense UV Protect SPF 50+/PA++++ provides comprehensive 'Full Light Protection'. This means that the sunscreen protects against UVA, UVB, blue light, and infrared rays, as well as pollution and free radicals that cause premature ageing. Its unique formulation consists of:
A blend of 5 Sunscreen Actives for SPF50/PA+++ Protection Combining 5 carefully selected active ingredients, each of which is effective against a different range of light wavelengths.
5x Antioxidant Ingredients

It contains the Prevent Complex that includes: Nutrilite-grown Acerola Cherry, Daisy Australia, and Blackberry Extract that increases the skin's natural defense system by 350% (in vitro testing).
Nutrilite Pomegranate which helps soothe and protect skin from irritation caused by pollution.
Centella Asiatica (Cica) extract which releases continuous antioxidants for 8 hours to protect the skin.
Chrysanthemum extract which helps prevent signs of premature ageing.
Carnosine Peptide which protects skin from exposure to blue light and infrared light.

Nutrilite-grown White Chia Seed

This phytonutrient powerhouse helps strengthen the skin's moisture barrier and maintain moisture levels for skin-boosting benefits delivered deep into the skin's surface.

What's more, the Nutrilite-grown White Chia Seed and Pomegranate are also key ingredients in the Patented Brightening Complex. This patented blend strengthens the skin's microbiome and brightens skin.
Reason #2: Recommended by the Skin Cancer Foundation
The ARTISTRY SKIN NUTRITION Multi-Defense UV Protect Broad Spectrum SPF 50+ has earned the Skin Cancer Foundation's Seal of Recommendation – Active. This seal is awarded to products that meet or exceed the Foundation's standards for safe and effective sun protection. In fact, the Seal program was developed to empower people to take a proactive approach to skin cancer prevention. Read more about why the seal is a big deal here.
Oh and did we mention that it's FREE from reef-harming ingredients such as Oxybenzone and Octinoxate? That's right! There's just so much to love about this ARTISTRY sunscreen!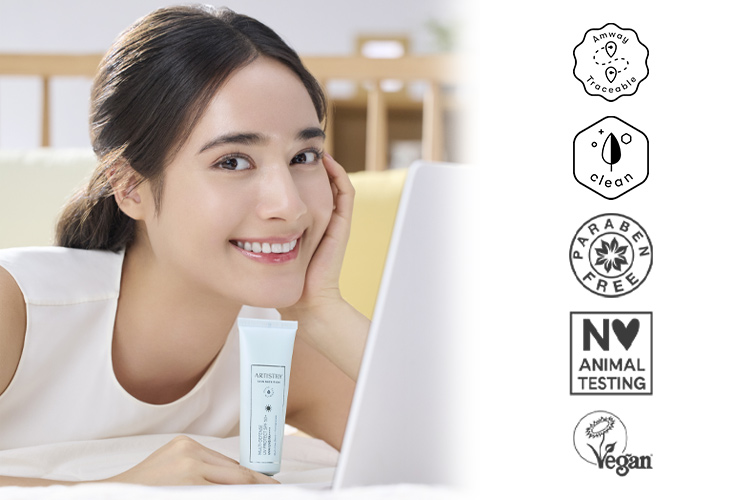 Reason #3: Suitable for every skin type – even oily skin!
Packed with natural- and plant-derived ingredients, plus our Multi-Filter Blend, is perfect for daily wear, including for sensitive skin and oily skin.
The beautiful, silky-light lotion texture glides over the skin and absorbs quickly without a white cast. Allergy and dermatology tested, this sunscreen is non-comedogenic, making it suitable for all skin types. Plus, it's perfect for swim days, beach days, and those days when it's so hot that perspiration becomes your best friend because the formula is water-resistant for up to 80 minutes.
Reason #4: Clean Beauty & traceable Ingredients
All ARTISTRY SKIN NUTRITION products embody Clean Beauty. This means that they are formulated to be vegan, without animal testing and are free from mineral oil, parabens, phthalates, sulphate surfactants, and cyclic silicones – and this sunscreen is no exception!
Furthermore, the ARTISTRY SKIN NUTRITION Multi-Defense UV Protect SPF 50+/PA++++ contains 3 traceable ingredients: Nutrilite Pomegranate, White Chia Seed, and Acerola Cherry, which are grown on Nutrilite's certified organic farm. Every step of the process, from seed selection to harvesting and processing into ARTISTRY products, is documented and traceable, ensuring purity and transparency.
With so much to love about the ARTISTRY SKIN NUTRITION Multi-Defense UV Protect SPF 50+/ PA++++, it's easy to make this sunscreen a staple in your skincare routine. After all, sun protection is an important step in your daily skincare routine because when skin is healthy, it can look and feel its radiant best, now and in the future.