Is ARTISTRY SKIN NUTRITION good for moderate signs of ageing?
Infused with Nutrilite phytonutrients harvested from certified organic farms, the four ARTISTRY SKIN NUTRITION solutions are vegan-certified, paraben-free and not tested on animals. Nourishing your skin for Healthy Beauty, they are designed to balance, hydrate, renew and firm the skin. So, what are its effects on skin with moderate signs of ageing such as dullness and fine lines and wrinkles?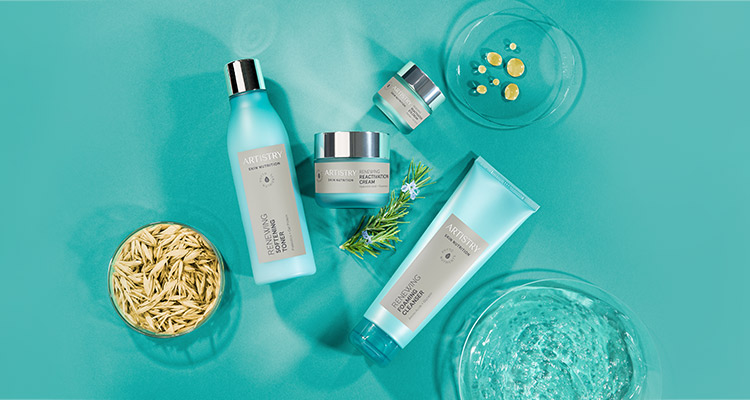 In the Renewing Solution, these ingredients – Shiso Perilla, Aloe Vera and Glycerin – provide gentle cleansing that calms the skin at the same time. Oat Protein and Prebiotics refine and smoothen the surface of the skin while balancing the microbiome, which is further nourished with Nutrilite's White Chia Seed and Pomegranate.
Nutrilite-grown Spinach, Turmeric and Tea Olive Flower are combined in the Repair Complex to restore skin's youthful condition by 600% (ex vivo testing). Finally, Rosemary strengthens the skin barrier while Hyaluronic Acid softens fine lines and wrinkles.
Here's what our customers have to say: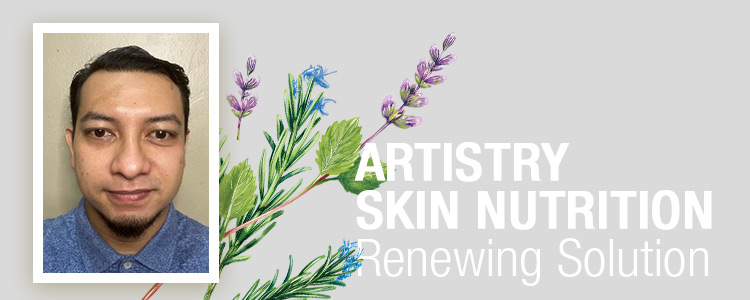 Zulqarnain Khairuddin
My skin has always been oily but ever since I hit my 30s, I noticed that it has started to turn dry. The skin under my eyes is especially sensitive and it usually stings whenever I wash my face. In addition, I have noticed the start of dark circles and crow's feet.
In terms of skincare, I am not the most disciplined – there have been times when I neglected my skincare routine.
As a busy ABO, I am always outdoors. Constant sun exposure and sweating is not good for my skin. I also have a young child who cannot sleep without the aircon, which dries out my skin further.
The scent of the products is very subtle and soothing. My favourite of the range is the Renewing Reactivation Eye Cream. My eye area used to feel rough but now it is always soft and the wrinkles around my eyes have lessened. All the moisturisers are instantly absorbed and leave my skin feeling refreshed and looking younger. Wrinkles and pigmentation have reduced while hydration and firmness have increased.
My skin is significantly more hydrated and even my wife has noticed the difference. Wrinkles and pigmentation have reduced while hydration and firmness have increased. I like how the collection targets different skin types to cater to more specific needs as skin changes with age. I will definitely recommend this range to my group.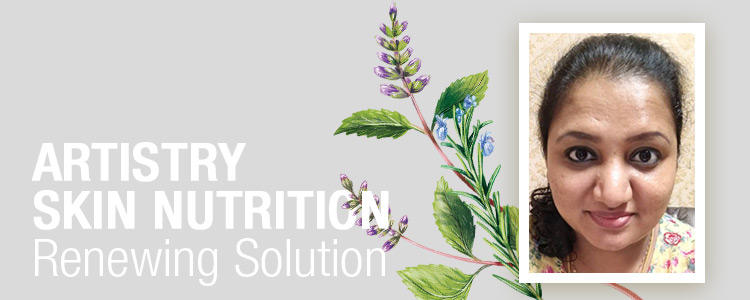 Mahaletchumi Suppiah
My skin is oily with wrinkles and I can see some enlarged pores on my cheeks. I am diligent when it comes to skincare and use all my products every day. I also use the SIGNATURE SELECT Polishing Mask weekly.
My lifestyle is not too busy, so I do get to eat regularly, but I sometimes sleep late. I always drink plenty of water though.
In the morning, I use the Renewing Reactivation Day Lotion SPF 30. At night, it's the Renewing Reactivation Cream for me.
I really like the textures of the products: the Renewing Reactivation Day Lotion SPF 30 is light and perfect for day use, while the Renewing Reactivation Cream is so rich and creamy. The entire collection also has a very nice smell to it too.
It's only been two weeks but already I can see that my skin looks more lifted along with improved elasticity. It has also balanced my oily skin, leaving it glowing and more radiant. I am happy with the results.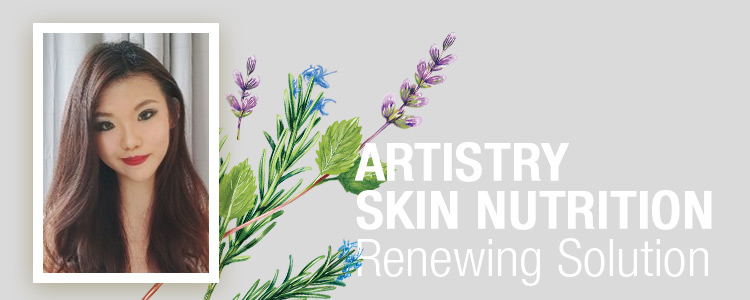 Loo Wen Yi
Mainly, I am concerned about my expression lines and enlarged pores. My combination skin leans more toward oily and I have some dark spots on my cheeks. My lifestyle is pretty busy and I often sleep late. I do take my Nutrilite supplements daily.
Previously, I used a combination of the SKIN NUTRITION Balancing and Hydrating Solutions. I am very disciplined when it comes to my skincare routine, making sure to use my SIGNATURE SELECT Personalized Serum and the INTENSIVE SKINCARE Advanced Skin Refinisher daily.
Twice a week, I use the SIGNATURE SELECT Purifying, Hydrating and Brightening Masks as well as the INTENSIVE SKINCARE Blooming Sleeping Mask. For daytime, it's the Renewing Reactivation Day Lotion SPF 30. For night-time, it's the Renewing Reactivation Cream.
The smell is great. My skin had to adjust to the new products, but the results are pretty good. The surface of my skin is softer and smoother, which is especially obvious when I apply makeup. Before this, you could still see the pores on my nose and cheeks even after I apply foundation. Now, everything looks more even.
Firstly, my skin looks noticeably hydrated and radiant. Then, the skin analysis showed that my pore size and dark spots have reduced while the elasticity has improved. My smile lines have diminished while my frown lines have softened. This range has exceeded my expectations.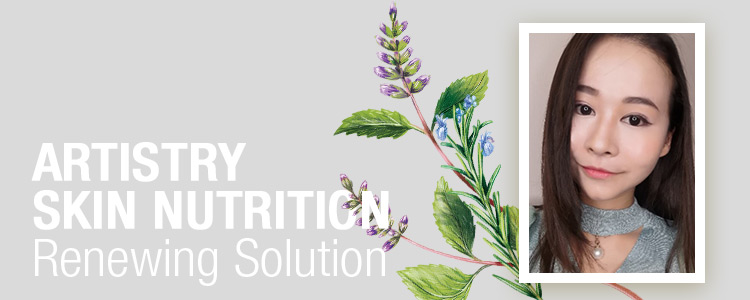 Lim Yen Shan Yennie
My main skin concerns are pigmentation, enlarged pores and expression lines. I have been using ARTISTRY for a couple of years and am very disciplined. Every day since its launch, I have used the SKIN NUTRITION Hydrating Solution.
I always sleep late, and I talk and smile a lot, so my expression lines are fairly obvious. That said, I always feed my skin with Nutrilite supplements like collagen peptide, protein and Vitamin C.
Every morning, I use the Renewing Reactivation Day Lotion SPF 30 and every night, I use the Renewing Reactivation Cream. I also use the Cream Makeup Remover, which has a softening effect.
The Renewing Reactivation Cream is very good. My skin still feels very moist and fresh when I wake up. In the morning, the Renewing Reactivation Day Lotion SPF 30 quickly hydrates and protects my skin with a touch of sun protection. The product's texture is very concentrated but not oily and it does not feel heavy on my skin. It is easily absorbed by the skin and has a very nice scent.
My skin has improved a lot. When I snap photos, I can easily see the difference. My dark circles and expression lines have reduced, my pores appear smaller and my complexion looks brighter. My friends tell me I look like I am wearing foundation when I am not. I love how much softer and smoother my skin has become.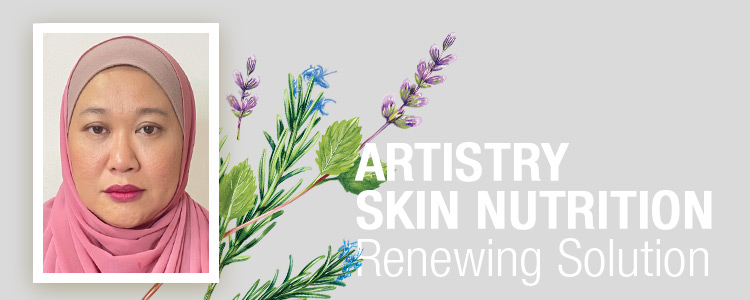 Rafidah Mohd Hidir
Dullness and uneven skin tone are major concerns for me as well as pigmentation and dark spots. My skin is a combination of normal to oily so when it gets hot, I have to wear foundation to hide my enlarged pores – and dark circles. Also, my skin is very sensitive and needs a high SPF sunscreen.
I am very disciplined and care for my skin twice a day. I use the SIGNATURE SELECT Masks, essentials by ARTISTRY Vitamin Sheet Masks and INTENSIVE SKINCARE Advanced Vitamin C + HA Treatment.
I often miss breakfast, so I nourish my body with Nutrilite supplements. Recently, I started sleeping at 11pm. Before, I would sleep at 1am because I can only work when everyone's asleep.
The texture of the Renewing Reactivation Cream is so rich it feels like a mask and leaves my skin feeling hydrated all night. At first use, the Renewing Softening Toner took me by surprise but then later I felt its softening effect. The products are incredibly moisturising. I used to reapply skincare after ablution five times a day, but that's not the case with this range. My face feels soft even after I splash it with water.
Every morning, I enjoy going straight to the mirror to see how my skin has improved. My skin feels firmer, my pores look smaller, my pigmentation has lightened, and my dark spots and fine lines have reduced a lot. Even during virtual meetings, all my downlines noticed the difference. People ask me if I am wearing foundation because my skin is glowing when in fact I didn't apply any makeup. Now, I cannot wait to use the products each night and I am so excited to share them with everyone!
Looking to transform your skin as well? Discover the collection and see the results for yourself at Amway.my