Air pollution has many sources, but stem mainly from human activity which affects both outdoor and indoor air quality. Many things in your closest surroundings can produce pollutants.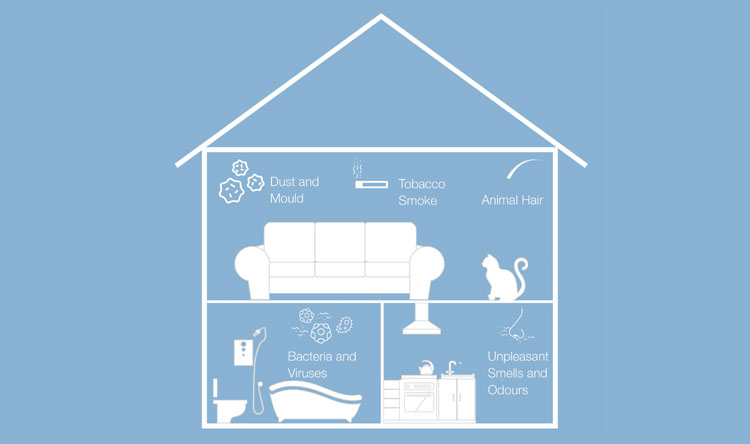 Potential Pollutants found Around the Home
Dust and Mould
Tobacco Smoke
Animal Hair
Bacteria and Viruses
Unpleasant Smells and Odours

OUTSTANDING PERFORMANCE THAT YOU CAN RELY ON
Atmosphere SKY offers exceptional performance that works by:
Filtering 99.99% of airborne contaminants which is better than standard HEPA filtration
Trapping particles as small as 0.0024 microns which is 30,000 times smaller than a strand of human hair
Using 3-stage filtration to effectively reduce over 300 potential contaminants in the house, which is a 300% improvement over the previous Atmosphere air purifier.
A Clean Air Delivery Rate (CADR) of more than 300 cfm and a 20% faster Turbo mode compared to the previous Atmosphere air purifier.
The ability to clean rooms up to 465 sqft / 43.2 sqm in size offering 20% more coverage than the previous Atmosphere air purifier.

3-STAGE FILTRATION SYSTEM:
Atmosphere SKY sets a new standard for home air quality with Inteliflow™, our unique internal air circulation system which combines our proven particle sensor with a three-stage filtration system and a unique motor housing, resulting in cleaner air.
Pre-Filter - Captures large, airborne fibres and hair.
HEPA Filter - Removes small particles such as allergens, bacteria, mould, viruses, fungi and asbestos.
Carbon Filter - Reduces formaldehyde, dioxin and ozone, as well as odours from smoking, cooking and pets.

INDEPENDENT 3RD-PARTY CERTIFIED

British Allergy Foundation Seal of Approval for its ability to reduce exposure to specific allergens.
The U.S. Environmental Protection Agency (EPA) ENERGY STAR® for energy efficiency.
CADR Certification from the Association of Home Appliance Manufacturers (AHAM).
European Centre for Allergy Research Foundation (ECARF) European Centre for Allergy Research Foundation (ECARF) certification which indicates that the Atmosphere SKY™ Air Treatment System has been scientifically tested by a 3rd-party laboratory to reduce or remove allergens and is therefore suitable for use by people with allergies.

Access Atmosphere SKY Anywhere with ATMOSPHERE CONNECT™
Atmosphere SKY offers a truly Connected Experience by putting convenience and control at your fingertips using wireless connectivity and the Internet of Things (IoT) platform. Never again worry about the air quality in your home no matter where you are.
The ATMOSPHERE CONNECT™ APP allows for easy monitoring and operation of your Atmosphere SKY unit anywhere with just a few taps on your mobile device. Download the free app to your smart phone or mobile device and never worry about the air quality in your home again.
Simply create a new Amway Connect ID after you download the app, so you can easily use the ATMOSPHERE CONNECT™ APP to monitor and operate your Atmosphere SKY both when you're at home or away.

The ATMOSPHERE CONNECT™ APP:
Acts as a Remote Control which allows you to turn the unit on/off, change the fan speed and mode, as well as measure your indoor air quality in real-time.
Records your Air Quality History allowing you to monitor and review the air quality over a 6-hour time period.
Allows you to monitor and control multiple units within your home from within the app.
Allows you to track your filter usage and lifespan* making maintenance easy.
*Do replace the filter when its lifespan has ended as shown in the ATMOSPHERE CONNECT™ APP or when the filter indicator on the LED display panel turns red.