Every morning deserves to be special. For many, no morning ritual is complete without a great cup of coffee, whether it's brewed in a French press or percolator. And for centuries, drip coffee has provided a wonderful gourmet coffee experience widely loved around the world.
Perfect for kickstarting your day or as a pick-me-up in the middle of the afternoon, Vergold Drip Coffee comes with two delicious variants of drip coffee. Your precious cup of 100% Arabica ground coffee can come from either the high altitude of tropical Colombia or from the volcanic soils of native Kenya, each providing its own unique blend and palette that's sure to make your taste buds dance. A perfect boost for you to take on the day, let's see how it can benefit your health: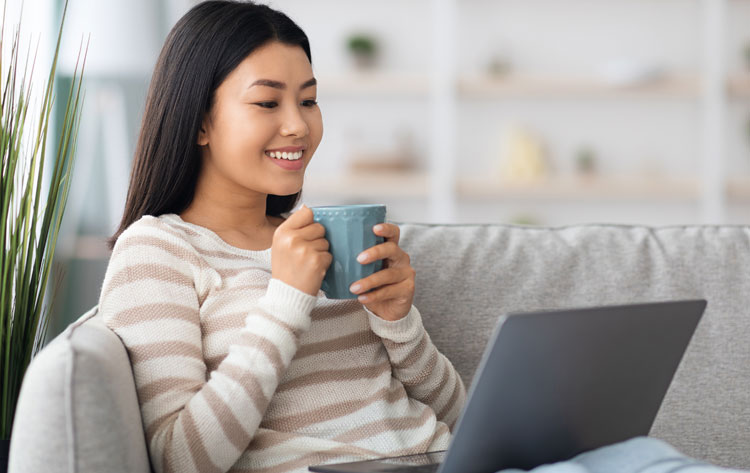 Coffee in its purest state
If you're looking for great-tasting coffee minus any unhealthy and fattening ingredients, Vergold Drip Coffee is the perfect candidate. Each sachet of our 100% Arabica ground coffee comes with no added creamer, sugar or artificial flavouring, so that you can savour the pure and natural coffee flavour at its finest without any additives.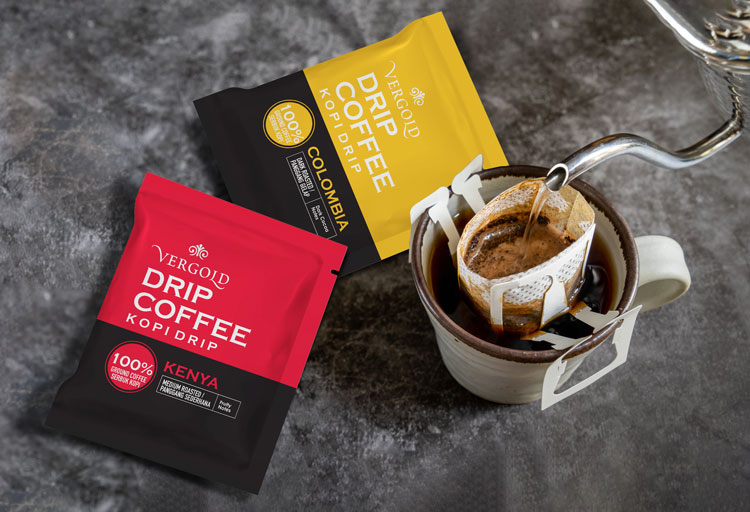 Variety is the spice of life and no one knows this better than avid coffee lovers who constantly seek out new caffeine experiences in boutique cafes and premium coffee brands. With Vergold Drip Coffee, you can enjoy both medium roasted beans from Kenya with that well balanced mix of natural sweetness and acidity, or go all the way with dark roasted beans from Colombia that will instantly wake you up thanks to its robust taste of dark roasted cocoa, strong body and deep Americano notes.
The best part is that you will not have to choose as each box of Vergold Drip Coffee comes with 10 sachets of each variant for a total of 20 sachets.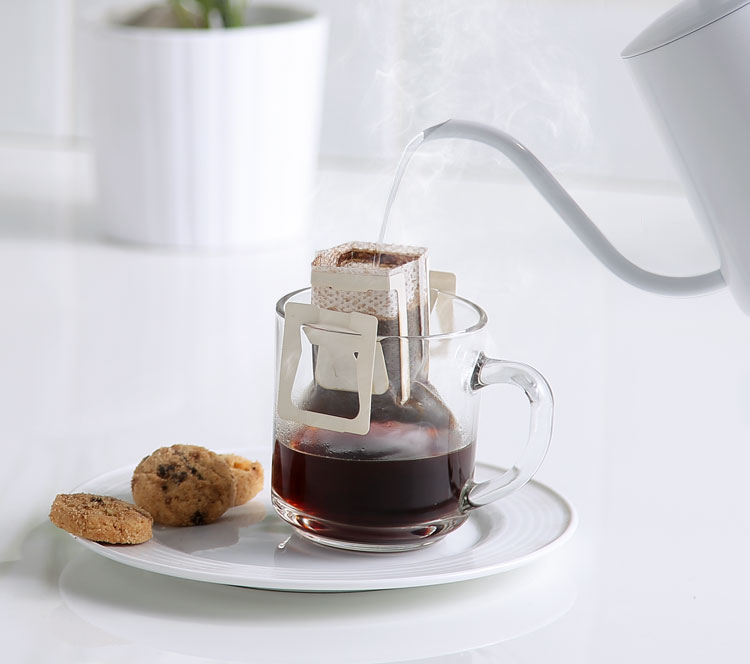 Destress one drip at a time
Getting the best brew out of your Vergold Drip Coffee is an exciting way to kickstart your daily routine. That said, simply taking a quiet moment to carefully prepare it provides you with the opportunity to slow down, breathe deeply to take in its aroma and just appreciate the finer things in life.
First, you start by hanging the tabs of the drip bag over the side of the cup. From there, you simply add 50ml of hot water (90°C) and wait for 30 seconds before slowly pouring in another 120ml to 150ml of hot water over the course of two to three pours. Only pause for a short moment in between each pour to let the hot water work its magic.
As soon as all that is done, you can remove the drip bag. Take care not to waste any precious remaining coffee that may still be contained within, before allowing your cup of Vergold Drip Coffee to arrest your senses and give you the energy you need to conquer the day.
Drink to your good health
We know you don't really need another reason to drink coffee, but we'll give it to you all the same. Did you know that coffee is rich in antioxidants? Many people may be surprised to know this but research has proven that coffee has a high antioxidant content with hydrocinnamic acids and polyphenols that can effectively neutralise free radicals and prevent oxidative stress.
Once you have your first taste, your days will never be the same. So, if you're someone who loves the natural taste of coffee, enjoys good variety and above all else, loves living life to the fullest in a productive and healthy way, then do yourself a big favour and get your first order of our brand new Vergold Drip Coffee today!
Kickstart your day with Vergold Drip Coffee – get it now at Amway.my