Is ARTISTRY SKIN NUTRITION good for advanced signs of ageing?
Infused with Nutrilite phytonutrients harvested from certified organic farms, the four ARTISTRY SKIN NUTRITION solutions are vegan-certified, paraben-free and not tested on animals. Nourishing your skin for Healthy Beauty, they are designed to balance, hydrate, renew and firm the skin. So, what are its effects on skin with advanced signs of ageing such as loss of firmness and deep lines and wrinkles?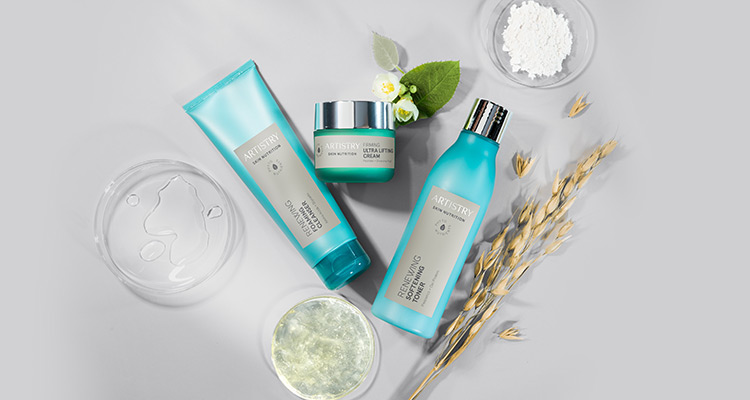 The Firming Solution is only differentiated from the Renewing Solution by its evening moisturiser. Both Solutions carry many of the same ingredients such as Shiso Perilla, Aloe Vera and Glycerin to provide gentle cleansing that calms the skin at the same time. There's also Oat Protein and Prebiotics to refine and smoothen the surface of the skin while balancing the microbiome, which is further nourished with Nutrilite's White Chia Seed and Pomegranate.
Nutrilite-grown Spinach, Turmeric and Tea Olive Flower are combined in the Repair Complex to restore skin's youthful condition by 600% (ex vivo testing). Finally, the Firming Ultra Lifting Cream contains Silvervine Fruit to restore dull aged skin while Peptide reduces wrinkles and firms up the skin.
Here's what our customers have to say: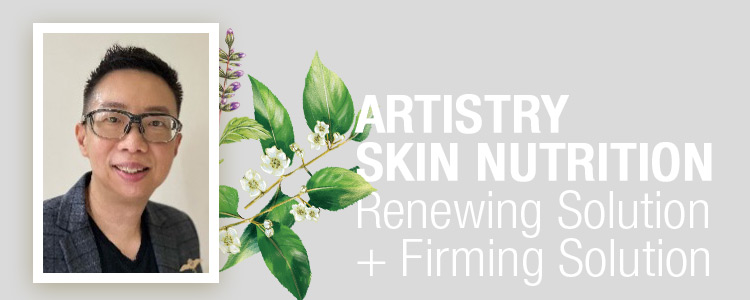 Loh Ewe Kang
I have dry skin with an oily T-zone. My skin lacks firmness and I also have uneven skin tone, dullness and laugh lines. I do not smoke or drink alcohol and I take Nutrilite supplements daily with protein, BodyKey and lots of water.
I use cleanser, toner and moisturiser, as well as the INTENSIVE SKINCARE Advanced Vitamin C + HA Treatment. Twice weekly, I alternate between the SIGNATURE SELECT Hydrating and Purifying Masks.
I use the Renewing Reactivation Day Cream SPF 30 and the Firming Ultra Lifting Cream. The Renewing Reactivation Day Cream SPF 30 is quite rich thanks to its Shea Butter. Just a small amount is enough.
The Firming Ultra Lifting Cream is quite rich, so I use it before bed. When I wake up, I can feel increased firmness and smoothness. These days, it is so hot I always sleep with the aircond on, resulting in skin dryness and dullness. Now, my skin feels soft and moisturised throughout the night until morning.
The moisturisers are all nice and creamy, but my favourite product is the Renewing Foaming Cleanser. I find its unique smell of Glycerin very relaxing and the formula is suitable for men too.
I can feel increased firmness and see reduced sagging. The Skin Analyzer also showed improvement in hydration and elasticity. Also, the dullness of my complexion is gone. The surface of my skin is radiant and brighter, while the evenness and smoothness have both improved.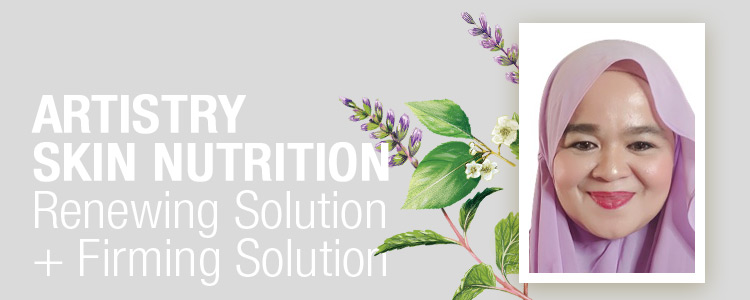 Rosita Mat
My skin is fairly normal, with a bit of dryness and oiliness here and there. That said, I do have some fine lines. With four children, I am very busy. My day starts early at 6am.
I have a standard skincare routine along with my SIGNATURE SELECT Personalized Serum and twice weekly I use the SIGNATURE SELECT masks. Also, I like to use the essentials by ARTISTRY Vitamin Sheet Masks and the INTENSIVE SKINCARE Advanced Skin Refinisher. Apart from that, I always use sunscreen even if I'm indoors.
I use the Renewing Reactivation Day Cream SPF 30 in the morning and the Firming Ultra Lifting Cream in the evening. Both are very fragrant with fresh and calming scents, and super soft.
I like the Renewing Foaming Cleanser, which is very effective yet non-drying. The creams are all very hydrating and give me softer and more lifted skin every morning. They are rich in texture but light enough to be easily absorbed.
I have more confidence these days as I can see that my skin is now more moisturised and balanced all over. In fact, my children enjoy touching my cheeks and they tell me my skin is so soft and smooth! My skin's firmness and pigmentation have improved too.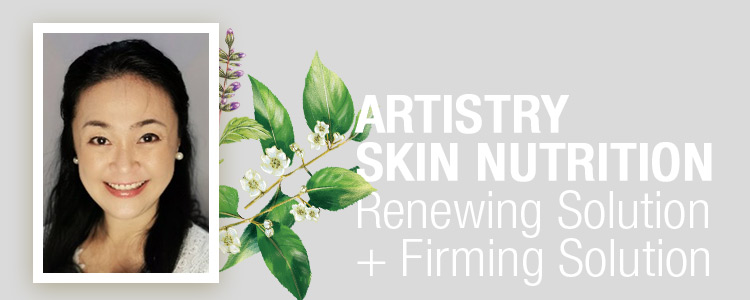 Lee Yuen Charn Kara
For me, it's elasticity and lack of firmness. Hydration is another main concern and I also need some brightening as I am not a fair-skinned person – I like being in the sun for at least an hour a day. It can be quite hectic between meetings, managing the household, raising four kids, cooking, running up and down – any women will understand this.
I have always used ARTISTRY, never tried other brands. Apart from my cleanser, toner and moisturiser, I also use masks regularly and the Personalized Serum as well as the INTENSIVE SKINCARE Advanced Vitamin C + HA Treatment. I am quite disciplined with my routine, especially with sun protection.
In the morning, I use the Renewing Reactivation Day Cream SPF 30 and, in the evening, it's the Firming Ultra Lifting Cream for me. Overall, the scent is wonderful. This range smells pleasant, not too strong or irritating. The textures are very nice and light for anti-ageing products, which are usually too heavy.
The Renewing Foaming Cleanser lathers up fast and does not feel heavy. It cleanses deeply and leaves my skin feeling very refreshed. The Renewing Softening Toner gives a great boost of moisture.
As for the makeup remover, it is excellent for double cleansing and for thoroughly cleansing my pores without leaving any oily residue. My skin is glowing and looks brighter, which I believe is because of improved hydration. The lifting effect is especially visible near my jawline and expression lines.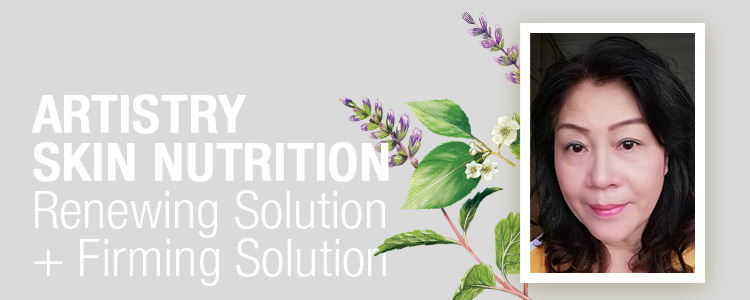 Tan Shally
I have very dry skin with lots of fine lines. My skin is not so firm either, and the results from the ARTISTRY Skin Analyzer made me very worried. I've used many other skincare ranges in the past and have noticed that my skin would become dry if I stopped using the products after a week or if I am not diligent. All that is going to change now.
I live a busy lifestyle! Besides paperwork, I am constantly cooking and cleaning the whole house. Even then, I still care for my skin every night. It helps that my beautician now calls to remind me and teaches me to use my products very carefully.
To moisturise my skin, it's the Renewing Reactivation Day Cream SPF 30 during the day and the Firming Ultra Lifting Cream at night. I like the scents, and the creams are very soft and easy to absorb. The Renewing Softening Toner is very good. Immediately after use, I can feel my skin is comfortably moist and not dry to the touch. The Makeup Remover + Cleansing Oil is also very effective.
So far, my dullness and fine lines have reduced and I have noticed a firming and lifting effect. My wrinkles are not so deep and my skin is more hydrated. The lines on my cheeks have softened and my skin's elasticity has improved so I look a lot younger. I am very happy every time I look in the mirror and see, wow, there is so much difference!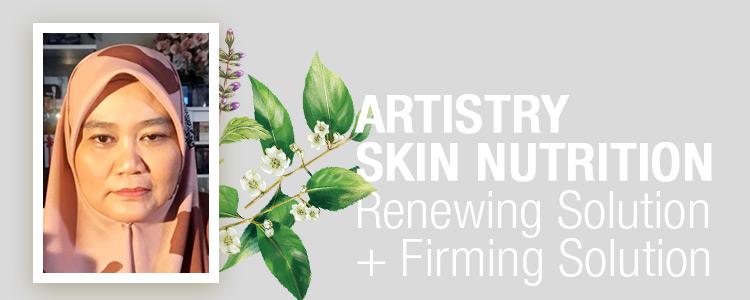 Husazniza Husain
For me, my main skin concerns are dryness and pigmentation as well as fine lines and wrinkles. I admit, before this I was not very disciplined with my skincare. Especially on nights when I am tired, I will neglect my skincare routine. Between meetings and with seven kids to look after, I am constantly busy.
I have been using the Renewing Reactivation Day Cream SPF 30 during the day and the Firming Ultra Lifting Cream at night. Because my skin is very sensitive, it took a few days to get used to the new products, but now everything is okay and I like them.
My skin tone is more even and brighter. I can see that the fine lines, wrinkles and sagging around my eyes and on my forehead have reduced. Now, I am excited to be more consistent with my skincare routine because I have seen the difference it makes.

Looking to transform your skin as well? Discover the collection and see the results for yourself at Amway.my