Along with Nutrilite-grown White Chia Seed as their hero ingredient, the ARTISTRY SKIN NUTRITION Balancing and Hydrating Solutions feature the Prevent Complex, an exclusive blend of Nutrilite-grown Acerola Cherry, Australian Daisy and Blackberry Extract, that boosts skin's natural defense system by 350% and helps delay visible signs of premature ageing.
The ARTISTRY brand continues to grow with our new anti-ageing range, the ARTISTRY SKIN NUTRITION Renewing and Firming Solutions. Many have since discovered how its phytonutrient-rich Repair Complex restores the skin's youthful condition by 600%, thanks to Nutrilite-grown Spinach, Turmeric and Tea Olive Flower in addition to Nutrilite-grown White Chia Seed.
Offering all the same benefits as their full-size counterparts are trial-size products in delightful Mini-Sets for all 4 Solutions.

Why Mini-Sets?
The perfect way to experience the ARTISTRY SKIN NUTRITION Solutions, these mini trial sets are enough in volume to last you for at least two weeks – plenty of time to make you realise what you're missing out on and decide to go all the way with full-size products. Also, we think our beautiful mini-sets would make great gifts for your loved ones. Let's take a closer look at what's inside: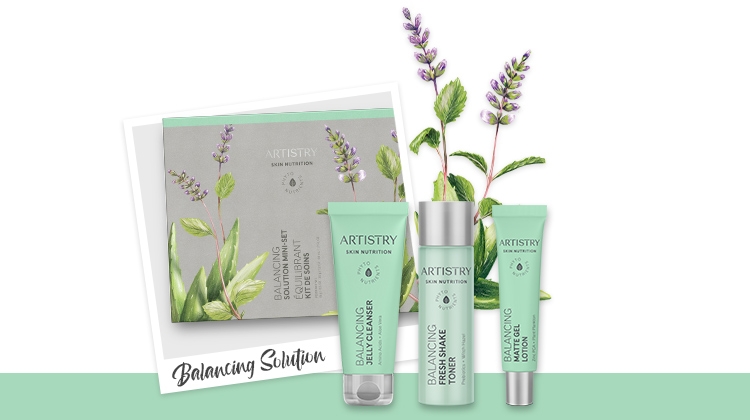 Balancing Solution Mini-Set
Great for oily skin, this mini skincare set has all the essentials to give you fresh, matte, healthy skin.
Consists of:
Balancing Jelly Cleanser (35ml)
Balancing Fresh Shake Toner (50ml)
Balancing Matte Gel Lotion (15ml)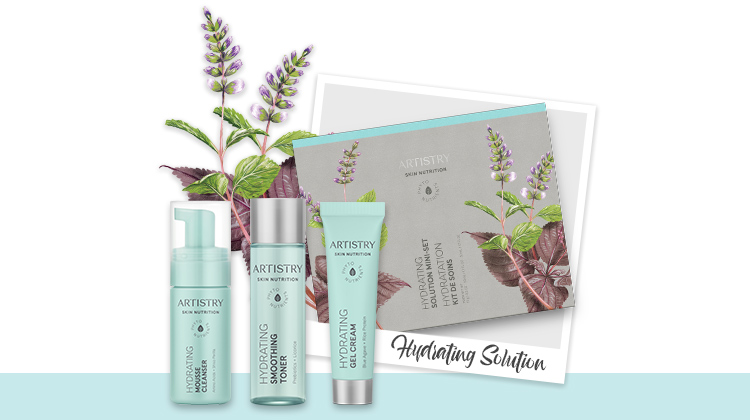 Hydrating Solution Mini-Set
Just the thing to relieve dry skin, all the basics you need for moisturised, radiant skin is right here.
Consists of:
Hydrating Mousse Cleanser (50ml)
Hydrating Smoothing Toner (50ml)
Hydrating Gel Cream (15ml)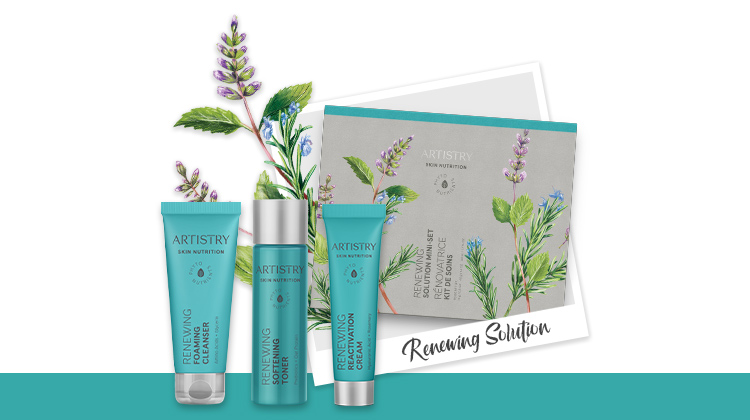 Renewing Solution Mini-Set
This is the one you want if you are starting to show early signs of skin ageing like fine lines and dullness. The Renewing Solution naturally reactivates mature skin to make it look more youthful and even regenerate itself as younger skin would.
Consists of:
Renewing Foaming Cleanser (40ml)
Renewing Softening Toner (50ml)
Renewing Reactivation Cream (15ml)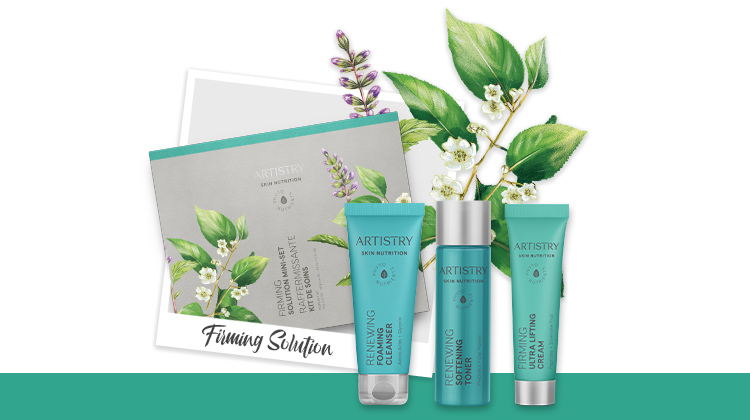 Firming Solution Mini-Set
Go for our most comprehensive formula if you wish to target more advanced signs of ageing such as deep wrinkles and sagging. No wonder the Firming Solution is a hit with more mature customers.
Consists of:
Renewing Foaming Cleanser (40ml)
Renewing Softening Toner (50ml)
Firming Ultra Lifting Cream (15ml)
Three is a magic number
The three products included in the mini-sets form the basis of an effective anti-ageing skincare routine – cleanse, tone and moisturise. And why are these three steps so important to fight ageing?
Cleansing removes pollution and impurities that can clog pores and prevent optimum efficacy of your skincare ingredients
Toning balances the skin's microbiome to ensure it stays healthy and functions properly, while preparing your skin for following skincare products
Moisturising day and night hydrates your skin to counter age-related dryness that leads to dullness, fine lines and wrinkles

That said, it is equally important to add on eye cream to care for the delicate skin around your eyes, especially when dark circles and puffiness start to show. You'll also want to protect your skin with a good sunscreen to prevent free radical damage from sun exposure that can accelerate signs of ageing.
So, there you have it – all the essentials of a regime that will turn back the clock and see you through the years for lasting beauty. What are you waiting for? Start your journey today and say goodbye to unwanted skin ageing!
Check out the full ARTISTRY SKIN NUTRITION range at Amway.my