You may be eating healthy and exercising well, but what is in the cleanser that you are using? And what about your toner and moisturiser? What chemicals are you unknowingly applying onto your skin?
The reality is that a lot of beauty products contain unhealthy ingredients that damage the skin and can speed up ageing in the long run. Also, many of them only work on the surface level and don't penetrate deep for lasting results. If you want truly glowing and radiant skin, take the Healthy Beauty approach.

What is Healthy Beauty and why is it important?
Healthy Beauty is an advanced approach to skincare which uses the power of nutrition and science to transform skin to its ideal and balanced state of health. After all, it is only when your skin is nourished and healthy that you will be able to achieve radiant beauty. The reason why this approach works so well is because it satisfies the 5 Key Skin Nutritional Requirements:

PURIFY to keep your skin's Defense Barrier clean and free of irritants
BALANCE to stabilise and nurture skin's Microbiome Barrier
REBUILD to strengthen and repair skin's Support Barrier
MOISTURISE to saturate skin and fortify its Moisture Barrier
PROTECT to amplify skin's Environmental Barrier

Healthy Beauty is based on 3 pillars: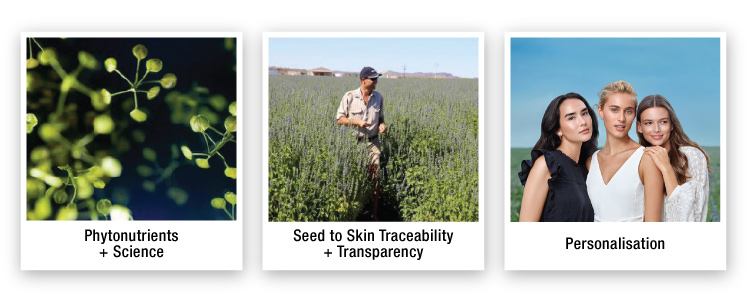 Phytonutrients + Science
Healthy beauty products utilise a special combination of plant phytonutrients and the latest in skincare technology to create products that deliver high performance results.
Seed to Skin Traceability + Transparency
The products you use are only as good as their ingredients. Healthy Beauty ensures every step of the process from sourcing seeds to creating the final product is monitored closely. Only clean ingredients are used to guarantee purity, safety and efficacy.
Personalisation
Everyone's skin is unique and what works for one person may not work for another. Using data collected on skin from all over the world and across different ages, skin types and ethnicities creates targeted beauty solutions that are just right for your skin type.
Find all your Healthy Beauty needs in ARTISTRY's new skincare range
Embodying all three pillars of Healthy Beauty, the new ARTISTRY skincare range combines powerful phytonutrients with cutting-edge formulations to give you radiant, younger-looking skin!
Nourishing the skin with Nutrilite-grown ingredients, its environmentally friendly formulas are also backed by Nutrilite's decades of experience as a world leader in phytonutrients. So, rest assured that the same care and quality you get with Nutrilite supplements will now be found in your ARTISTRY skincare.
Get ready for ARTISTRY's Healthy Beauty!