Isn't it exciting? Hari Raya is just around the corner! It's time to plan your new Baju Raya following the latest trends, get the house ready, and let's not forget – make sure our skin is prepped and pampered for beautiful, bright, and clear skin during Hari Raya festivities.
But now, the question is how do you take care of your skin so that you get a radiant glow just in time for stunning Raya photos? Well, following a skincare routine is the first step and using the right skincare products is just as important, especially if you're looking to brighten dull skin and minimise the appearance of dark spots and pigmentation.
This is where the ARTISTRY IDEAL RADIANCE collection, a brightening skincare range, makes a radiant and luminous entrance.
ARTISTRY IDEAL RADIANCE – Elevating Skin Brightening To A Whole New Level Of Luminosity
The ARTISTRY IDEAL RADIANCE is a collection of skincare and beauty products that is suitable for all skin types. With consistent use of the whole collection, it moisturises, brightens, and helps fade dark spots and pigmentation on the face. Other than reducing the appearance of dullness, it also gives your face a clear, bright, and clean glow.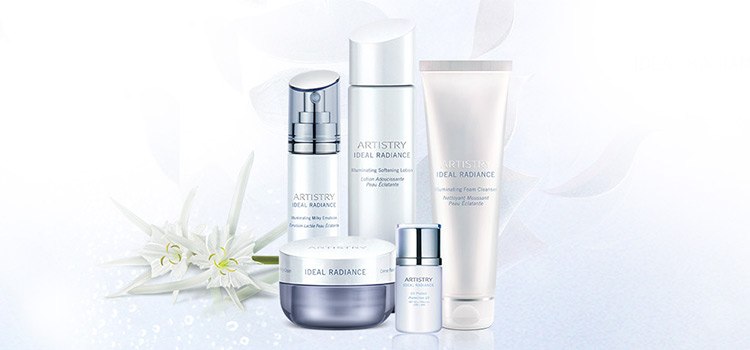 Introducing the 4 Active Ingredients That Boost Luminosity and Hydrate Skin
Among the four main active ingredients of ARTISTRY Ideal Radiance are:
A powerful blend of flower extracts comprising of pure White Star Lily, English Daisy and Evening Primrose reduces the appearance of pigmentation on the skin
Breakthrough Technology AA2G Skin-Brightening Technology is an exceptionally powerful skin brightener that has been clinically proven to reduce the appearance of skin pigmentation and brightens and evens skin tone.
Patented White Chia Seed and Pomegranate extract in the ARTISTRY IDEAL RADIANCE Emulsion and Moisture cream reduce the appearance of dark spots
Pearl Proteins that are rich in peptides and antioxidants - two important components for skin brightening.
Healthy and Bright Skin Starts With A Good Skincare Routine
Adopt the ARTISTRY IDEAL RADIANCE products for a skincare routine for brighter skin: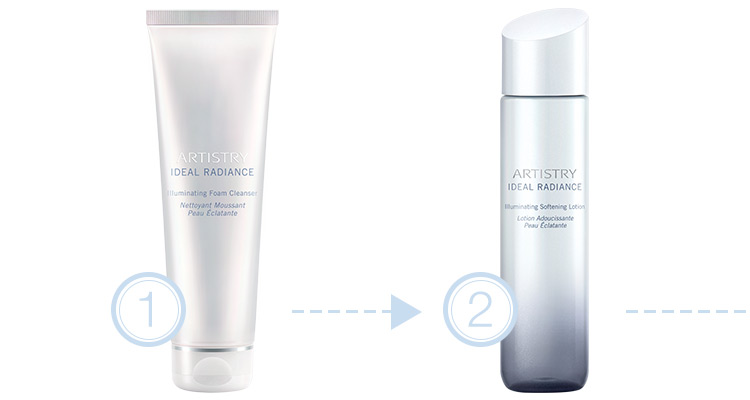 Start with the ① ARTISTRY IDEAL RADIANCE Illuminating Foam Cleanser. This foamy cleanser deeply purifies the skin without stripping the skin for clean and bright skin. Next, pat in ② ARTISTRY IDEAL RADIANCE Illuminating Softening Lotion for instant hydration that moisturises and refreshes the skin.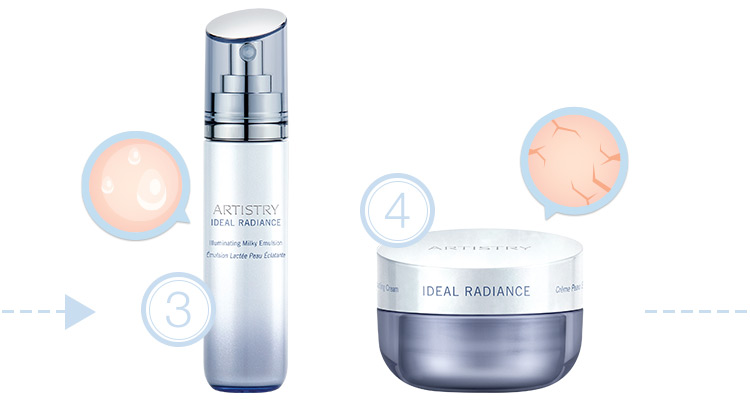 If you have oily skin, opt for the ③ ARTISTRY IDEAL RADIANCE Illuminating Milky Emulsion. This lightweight emulsion infuses skin with moisture and powerful, patented brightening ingredients to reduce the appearance of spots. For dry skin, choose the ④ ARTISTRY IDEAL RADIANCE Illuminating Moisture Cream. It delivers lasting hydration deep into the skin while also brightening and minimising the appearance of dark spots with a rich and creamy formula.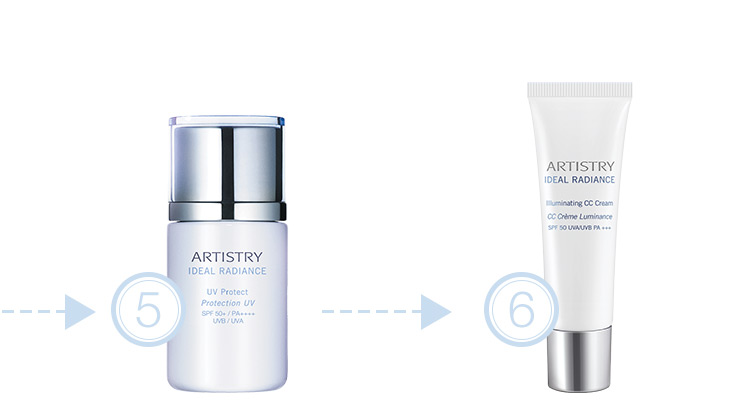 Don't forget to protect your skin every day with ⑤ ARTISTRY IDEAL RADIANCE UV Protect SPF 50+ PA++++. Featuring an ultra-lightweight formula, this sunscreen lotion protects the skin against harmful UV rays and environmental aggressors that can cause dark spots and pigmentation for a brighter and more radiant look. Lastly, correct uneven skin tone and brighten the skin in one easy step with the ⑥ ARTISTRY IDEAL RADIANCE Illuminating CC Cream. This oil-free CC cream has a complexion-perfecting tinted formula that instantly corrects various complexion flaws for a radiant finish.

Share The Joy of Radiant Skin This Hari Raya
It's not too late to start pampering your skin with the ARTISTRY IDEAL RADIANCE skincare set! Get it today to prep your skin so that you can flaunt more radiant and brighter skin during Hari Raya festivities.
In fact, why not share the delightful and brightening benefits of the ARTISTRY IDEAL RADIANCE range with your family and friends so that everyone can enjoy Hari Raya festivities with radiant skin and confidence.

This article also appears in the eCatalogue Raya Edition 2022.