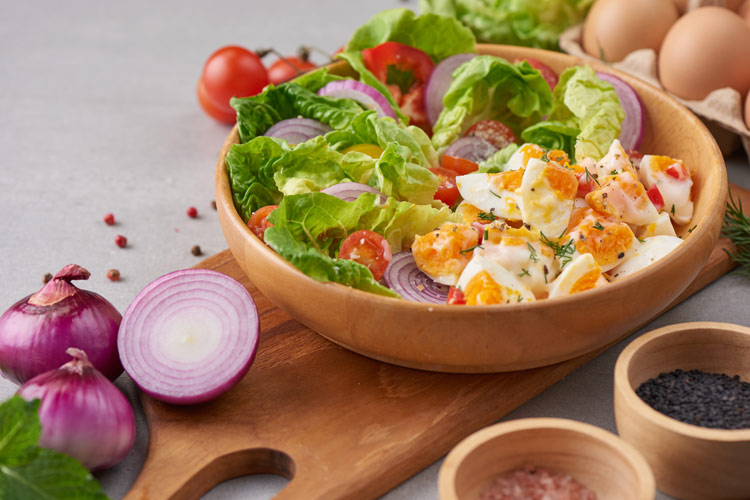 When faced with a new normal, one of the first things to change is our eating behaviour. For example, eating clean can be difficult when you are working just steps away from the pantry or refrigerator. In stressful times, junk food can feel like a form of stress relief.
Your body may crave high-calorie and high-sugar foods during times like these. In other words, you may find yourself bingeing on junk food more often. To make matters worse, stress can also lead to elevated cortisol levels in your body, which increases your appetite.
Don't worry. Here are some tips on how to avoid stress eating and stay in shape for the upcoming festive season:
Set an eating schedule
Settling into a consistent routine for your day-to-day meals and snacks helps you keep your eating under control. Sticking to this will prevent you from eating mindlessly throughout the day. Try these 4 tips to get started: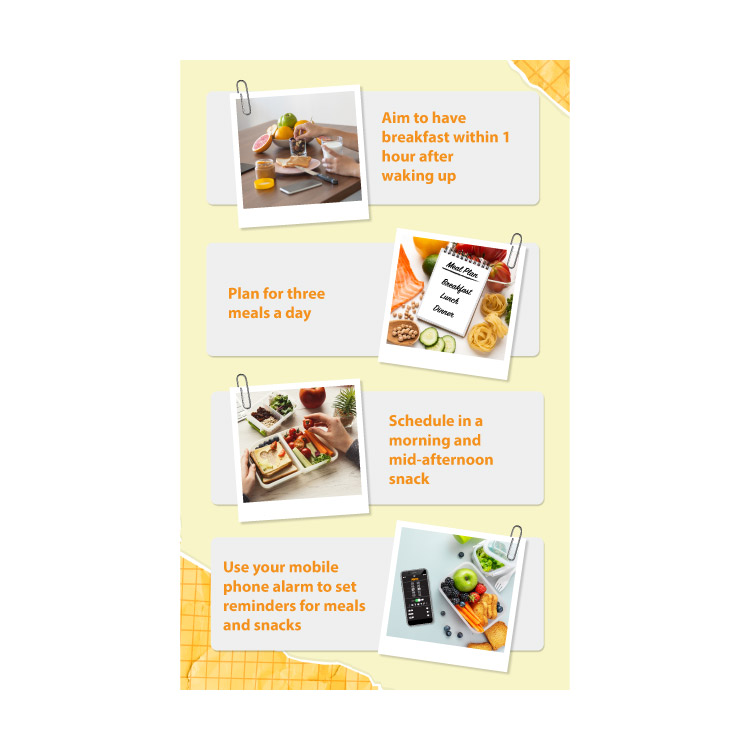 Stay hydrated
Remembering to stay hydrated is important. To make it easy, keep a glass of water, mug of tea or another favourite beverage at your desk while you work so you can sip frequently throughout the day. When filling your glass, try to avoid sugary drinks or beverages with artificial sweeteners. They can throw off your natural appetite.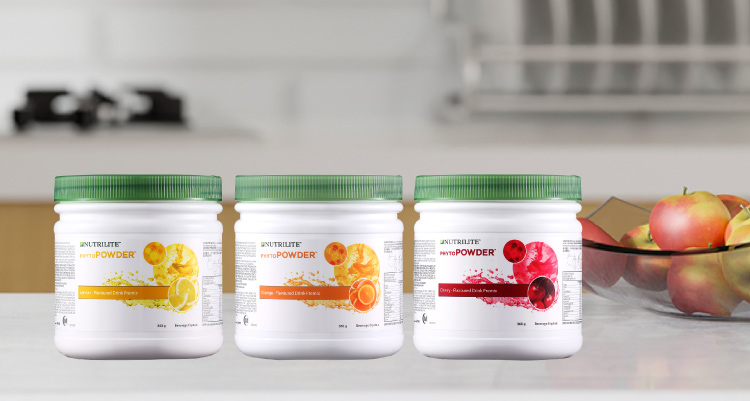 To make sipping your water more fun, try adding fresh fruit or low-calorie flavouring. Nutrilite PhytoPOWDER comes in three delicious flavours – Orange, Lemon and Cherry – each with its own health benefits; try them all.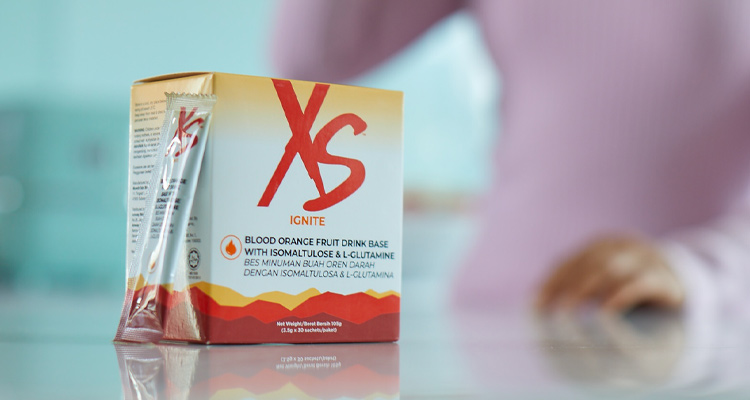 Want to curb that appetite and burn fat naturally while you're at it? Gulp down XS IGNITE Blood Orange Fruit Drink Base With Isomaltulose & L-Glutamine before a meal or before a workout. It contains Moro Blood Orange Extract, which is clinically proven to improve body composition1, reduce bodyweight and BMI1 as well as reduce waist and hip circumference1. Isomaltulose provides a steady energy supply2, sustains your body for a longer time compared to other sugars2 and provides a feeling of fullness for longer3. Also, L-Glutamine increases lean body tissue and muscle tissue hydration for reduced muscle fatigue4 and promotes muscle strength and recovery5 – perfect for those quick workouts between meetings.
Distinguish between emotional hunger and real hunger
When you're trying to avoid stress eating, make sure that you are tuning into what your body really needs – not just what it wants. Before you grab a snack, ask yourself if you are actually hungry. Is your stomach growling? If not, you might only be feeling stressed or bored.
When you do sit down for a meal, create an atmosphere where you can enjoy it and focus on the food. Get rid of distractions by putting away your phone and laptop. Put down your utensils between bites and listen to your body's cues on how much you need to eat. Stop eating when you feel full.
Keep healthy foods in your fridge and prep your meals
Choose a large selection of unprocessed items like fruits and vegetables, nuts and lean meats so you can create nutritious meals and snacks. Once you have these on hand, meal prep will be easy. Planning your daily meals and snacks is a great way to avoid unwanted snacking during the day because you'll know another good meal is coming soon.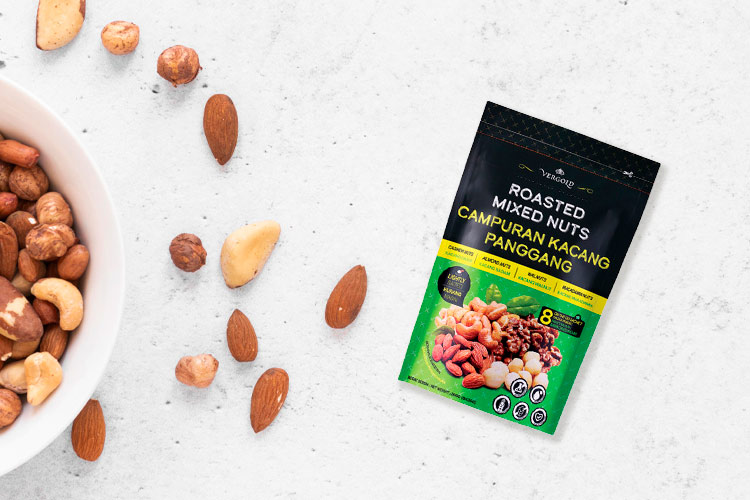 Having convenient, good-for-you snacks to nibble on between meals helps keep your energy up while working. This could be pieces of fresh fruit, a handful of carrot or celery sticks, or a bag of Vergold Roasted Mixed Nuts: tasty, crunchy and perfect for a mid-afternoon bite.
Don't work near the pantry
Set up your desk area in a space far away from the pantry. That way, you won't give in to temptation to wander over between emails. Try to set limits for yourself, and only go into the pantry when you are getting ready to have one of your pre-planned meals or snacks.
Don't buy junk food
It's simple: If you can't get your hands on it, you won't eat it. Do not stock the pantry with junk foods, which you tend to gravitate toward when you're bored. Be especially careful about foods that might trigger an eating binge. If you have a weakness for something, do not buy it at the store.
Avoiding stress eating might seem tough at first. But it's all about practising self-care and keeping yourself well. With a little planning and meal prep, you'll soon get the hang of these healthy habits.
Browse Amway.my for more products to help you lead a healthier lifestyle today!
References:
Mittendorfer B, Volpi E, Wolfe RR. Whole body and skeletal muscle glutamine metabolism in healthy subjects. Am J Physiol Endocrinol Metab. 2001 Feb;280(2):E323-33. doi: 10.1152/ajpendo.2001.280.2.E323. PMID: 11158937; PMCID: PMC3425386
Legault Z, Bagnall N, Kimmerly DS. The Influence of Oral L-Glutamine Supplementation on Muscle Strength Recovery and Soreness Following Unilateral Knee Extension Eccentric Exercise. Int J Sport Nutr Exerc Metab. 2015 Oct;25(5):417-26. doi: 10.1123/ijsnem.2014-0209. Epub 2015 Mar 26. PMID: 25811544