What is ARTISTRY SKIN NUTRITION?
ARTISTRY SKIN NUTRITION combines advanced science, nutrition and beauty to create a holistic approach that gives you radiant beauty.

Just like the body needs nutrients to be healthy, so does the skin. In fact, we discovered that the skin has 5 Key Nutritional Needs – to purify, to balance, to rebuild, to moisturise, and to protect – which have to be met in order for skin to look its healthy best. ARTISTRY SKIN NUTRITION products work like supplements for the skin to fulfil these 5 nutritional requirements.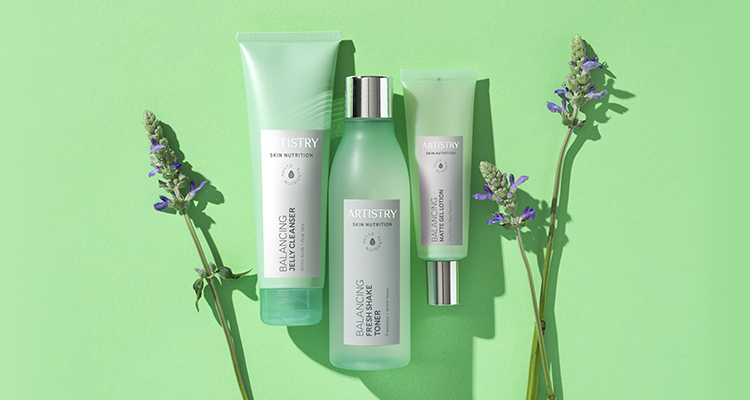 SOLUTION FOR BALANCING

The ARTISTRY SKIN NUTRITION Balancing Solution helps control excess oil and leaves your skin with a fresh, matte and healthy look without shine or blemishes. If you are trying to reduce shine and prefer products with lighter textures, then this is the set you should choose.

Balancing Jelly Cleanser
This clear gel is clinically proven to remove pollutants and impurities from your skin. It transforms into a cooling lather that cleans deep into pores and completely rinses away for a shine-free finish without drying out your skin.

Balancing Fresh Shake Toner
Its specialised oil-absorbing powders draw out excess sebum and reduce the appearance of pores, leaving the skin with a soft, matte finish.

Balancing Matte Gel Lotion
A light gel that quickly absorbs into the skin to provide 24-hour hydration and a matte finish that lasts all day! Containing the phytonutrient blend Prevent Complex (Acerola Cherry plus Australian Daisy and Blackberry), it boosts the skin's natural defence by 350%.

Balancing Matte Day Lotion SPF 30
Light and hydrating with SPF 30, this gel protects against damage from UV rays. It contains Carnosine, which is clinically proven to prevent damage from harmful blue light and infrared light, as well as Pomegranate which protects the skin from six major types of pollution.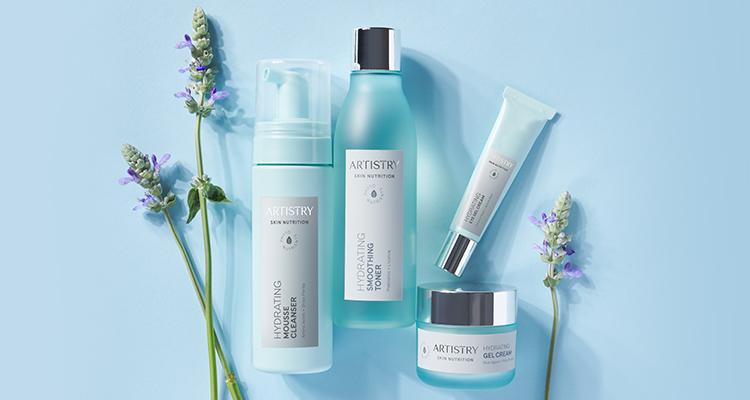 SOLUTION FOR HYDRATING
The ARTISTRY SKIN NUTRITION Hydrating Solution intensely hydrates skin for refreshed radiance and helps slow visible signs of premature ageing. If you want elastic skin that feels bouncy and supple with a soft and smooth texture, this is for you.

Hydrating Mousse Cleanser
An aerated, cushiony cleansing mousse, this is perfect for normal to dry skin. It also contains a patented blend of Shiso Perilla and Aloe Vera to soothe your skin and leave it feeling simply amazing.

Hydrating Smoothing Toner
A fresh and hydrating formula that leaves your complexion vibrant with a silky soft feel, it has White Chia liposome which seals in the skin's own moisture and prevents moisture loss.

Hydrating Gel Cream
Supercharged hydration for your skin that lasts 24 hours. This intensive moisture rush helps to lessen the look of fine lines and other signs of premature ageing like poor texture and uneven skin tone.

Hydrating Day Lotion SPF 30
This lightweight lotion provides 24-hour hydration. It has broad spectrum SPF 30 to protect your skin from UV rays as well as Carnosine, which protects your skin from blue light and infrared light damage.
Extra Care
Add these to your skincare routine:

Micellar Makeup Remover + Cleanser
Easy to use with its rinse-free dual-phase formula, its microbiome-friendly micelles effectively attract and lift away impurities without disrupting or stripping the skin's barriers. It even dissolves long-wear and waterproof makeup, while the Watermelon Extract protects skin from free radical damage.

Hydrating Eye Gel Cream
Lightweight and super hydrating, this works to reduce multiple early signs of ageing such as fine lines and dullness. It also reduces dark circles and puffiness around the eyes.
Find the skincare routine that's right for you with ARTISTRY SKIN NUTRITION!
Look out for our article on the ARTISTRY SKIN NUTRITION Balancing Solution #ArtistryHealthyBeauty