Mother's Day is just around the corner! Thankfully, there's still time to shop for the queen of your heart and others. Here is our selection of gifts for all the wonderful mothers you know:

For Mum
Okay, so she can't turn back time to when you were a cute little baby, but we've got something to help her renew her skin – in just two weeks! Made for professional results at home with no downtime, the ARTISTRY INTENSIVE SKINCARE 14 Night Reset Program improves hydration, evens skin tone, brightens, smoothens and firms up skin, while reducing fine lines and wrinkles. Its Deep Night Action Ultra Technology combines 3 powerful liposomes to reset skin while repairing and strengthening the skin barrier:
Activator liposome increases natural skin defence and protection by 217% and nourishes the skin with Nutrilite-sourced Chia Seed Oil
Merospheres strengthen the skin's moisture barrier and moisture retention
Ultrasomes help to repair cells 75% faster than the normal rate, with UV-Endonuclease to speed natural recovery from sun damage
Other ingredients include the Phyto-3 Cica Blend with Centella Asiatica, Rosemary, and Echinacea, to increase cellular repair by 150%, and soothe skin while providing antioxidant protection.
For optimum results, use it with the ARTISTRY INTENSIVE SKINCARE Collagen+HA Capsule 97, which contains 97% marine-based collagen, hyaluronic acid and Fermentia Cica. Designed to be used together, it increases skin density by up to 115% (in clinical tests) while deeply moisturising and providing anti-inflammatory properties. Mix them together, smooth on before bed, and wake up to reduced wrinkles and improved skin elasticity.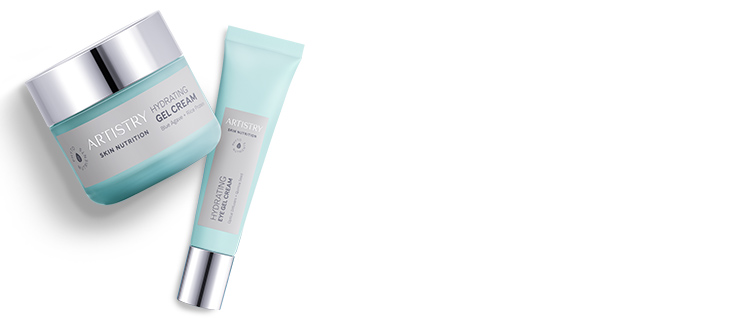 From one mother to another, because you understand each other
If there's one thing all new mothers have in common, it's dark undereye circles and puffiness. Give her the ARTISTRY SKIN NUTRITION Hydrating Eye Gel Cream so she can kiss those eye bags goodbye. Thanks to its lightweight texture, this luminous gel hydrates and soothes instantly. It also has Radiant Optical Diffusers to brighten up the eye area and Quinoa Seeds to help reduce dark circles.
Be sure to smooth on the ARTISTRY SKIN NUTRITION Hydrating Gel Cream for an added moisture boost all over your face. Both products contain the phyto-powered Prevent Complex, which boosts the skin's natural defense system by 350% (in vitro testing). This exclusive blend of Nutrilite-grown Acerola Cherry, Australian Daisy and Blackberry helps prevent and delay early signs of ageing, while Nutrilite-grown Pomegranate protects skin from pollution with vital antioxidants.

For all mothers who want to look fabulous
Nothing brightens up a woman's day – and appearance – quite like a really good lipstick that flatters her unique skin tone and adds colour to her face. The ARTISTRY SIGNATURE COLOR Lipstick comes in a wide variety of shades so there's something for every mum you know.
We also love that it's infused with natural oils that lock in 36% more moisture. No feathering, no bleeding – just smooth, soft and supple lips for a mother to keep kissing her loved ones with.
Happy Mother's Day!