This Valentine's Day, why not celebrate love in all forms by equipping loved ones – or yourself – with the right cookware? After all, many people associate food with love, whether it is a soul-warming chicken broth lovingly made by a mother for her sick child, grandparents indulging their grandchildren with delicious desserts or coming home after a long day in the office to a piping hot dinner prepared by a romantic spouse.
Relive the warmth of these tender moments by preparing sumptuous meals brimming with care – and we've got everything you need right here.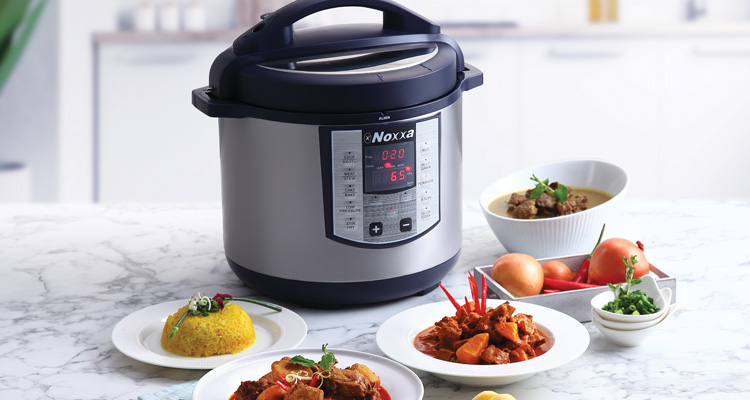 Much loved for its 'One-Touch-To-Cook' operation system, the Noxxa Electric Multifunction Pressure Cooker is designed to save time and energy. With 10 different cooking functions – Soup/Broth, Meat/Stew, Cake/Bake, Low Pressure, Stir Fry, Rice, Multi-Grain, Porridge, Steam, Slow Cook – preparing healthy meals is a breeze. Simply choose a button on the control panel to pressure cook your favourite stew, stir fry crunchy vegetables, steam a fresh fish, slow cook a nutritious broth, keep your food warm, reheat leftovers from the fridge and even bake a yummy cake – the possibilities are endless!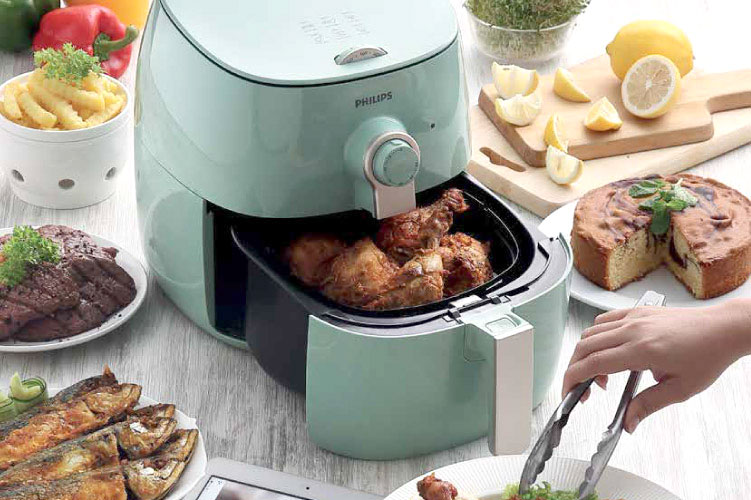 Do we like fried food? Yes. Is it healthy? It can be! Thanks to the Philips Airfryer, you can easily fry, bake, grill and roast food while cutting down on oil. Its advanced Fat Removal Technology separates and captures excess fat. Hot air cooks your meat, fish and vegetables with up to 90% less fat. At the same time, Rapid Air Technology creates an airflow that is 7 times faster. The result: Tasty food that's crispy on the outside and tender on the inside – just the way you like it.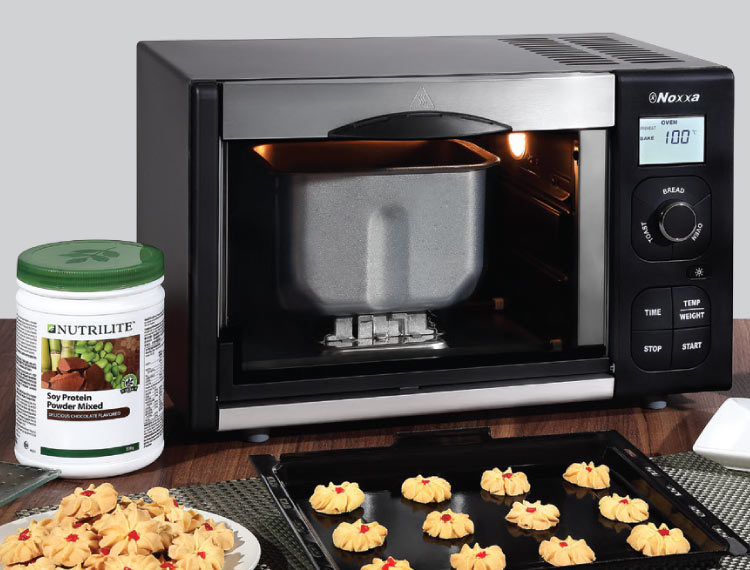 Who doesn't like freshly baked bread and soft fluffy buns – but why stop there? The Noxxa BreadMaker Oven Toaster will serve you from breakfast to lunch and dinner, even dessert. As if this hardworking bread maker wasn't already a catch with its ability to knead, proof and bake your dough for you, it can also be used to make cakes, pastries and cookies as well as succulent roast chicken, grilled fish and vegetables, rounded off with crispy garlic toast.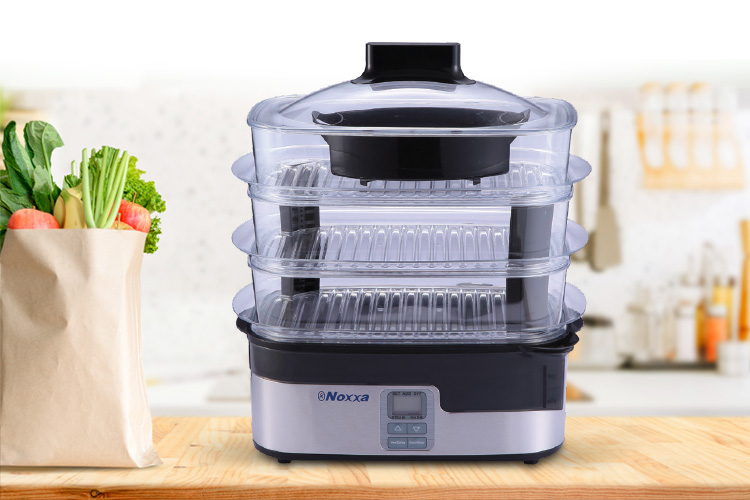 Steaming remains one of the top ways to retain nutrients and flavours while cooking and it's just so easy! The Noxxa Food Steamer takes this to another level with stackable 3-tier XL compartments that allow you to steam various ingredients at a time. And because aroma plays a key role in how we taste our food, this steamer has individual steam tube channels to minimise the transfer of food smell from one compartment to another. No more fishy smelling vegetables!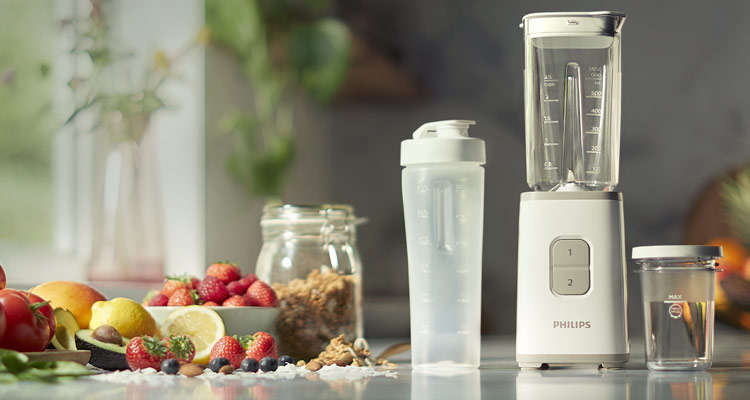 Talk about a triple treat! Easy to use with 2 speed settings to choose from, the Philips Mini Blender has a powerful 350W motor and 4-star blade that will finely blend your ingredients – sweet or savoury – to perfection in a snap. It's great for whipping up soups and smoothies, too.
Speaking of smoothies, is yours juiced up and ready to go? Simply pour it into the Philips On-the-Go Tumbler and enjoy your delicious beverage wherever you are!
And if you dislike cutting ingredients by hand as much as we do, then you will just love the Philips Multi Chopper. Suitable for chopping up vegetables, herbs, nuts and boneless meat, this little marvel will save you plenty of time (and tears from dicing onions).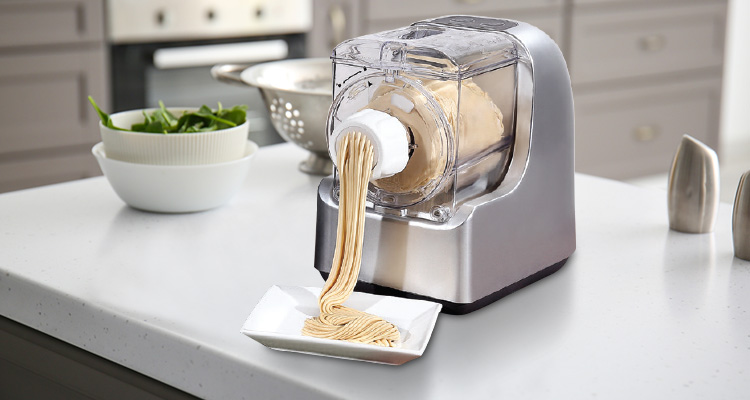 Love noodles but concerned about artificial preservatives, colourants and flavours? What about more specific dietary needs such as gluten-free? Time to make your own nutritious noodles and pasta using natural ingredients! The Noxxa Noodle Maker is fully automatic, which makes it fast and easy to use. Why not impress friends and family with your own customised noodles and pasta with special ingredients? You can even use sweet dough to create beautiful noodle pastries for dessert – win!
Shop our kitchen essentials at Amway.my