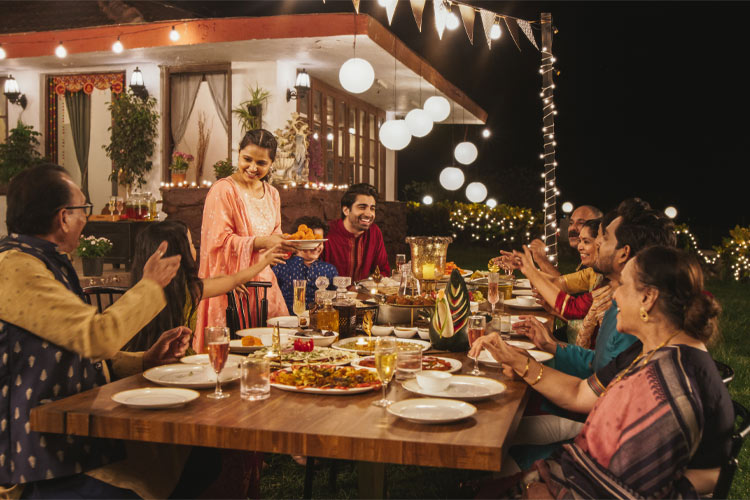 Guess what? Deepavali is just around the corner! The colourful Festival of Lights is celebrated by Hindus around the world and Malaysia is no exception. That said, this is also the time when all races across the nation will gather to celebrate together and enjoy the great snacks and festivities!
It won't be long before you're surrounded by your loving friends and family for some quality time too. Have you stocked up on various snacks for sharing and gifting? Don't worry, we've got you covered! Remember to share these delicious festive treats with your nearest and dearest, and may this Deepavali bring you prosperity and brighten up your days.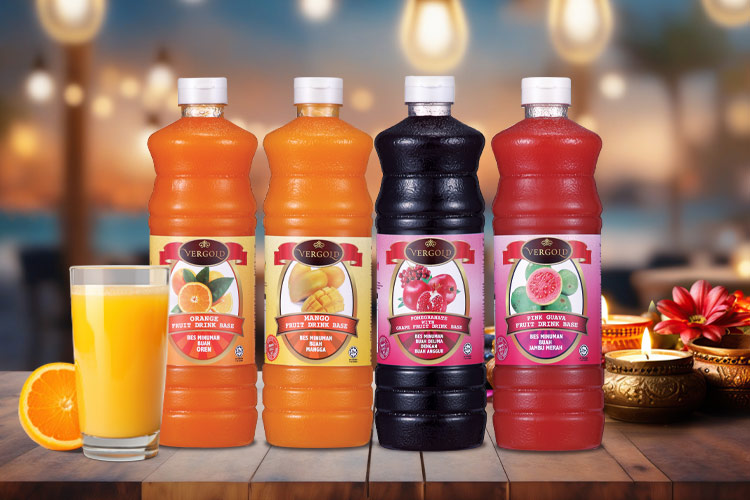 Vergold Fruit Drink Base (Orange/Mango/Pink Guava/Pomegranate With Grape) (1L)
Forget the usual sodas – quench your thirst with these rich, juicy and totally refreshing fruit drinks! Made from premium-quality ingredients, these tantalising beverages are also enriched with vitamins A, B6, C and E for a healthy boost.
Loved by many, the Vergold Fruit Drink Base comes in four yummy flavours to cater to different palates. Simply mix with cold water and taste the invigorating freshness of California oranges, sun-ripened mangoes, exotic pink guava or succulent pomegranates and grapes in every glass.
Vergold All-Time Favourite Cookies Gift Set (150g x 2)
Who doesn't love cookies? Especially healthy cookies! Baked with premium natural ingredients including dark chocolate, pecan and walnuts, these crunchy cookies are great for sharing with loved ones when they come to visit or as thoughtful gifts for the festivities. The scrumptious Dark Chocolate Cookies and Crunchy Pecan Walnut Cookies come beautifully packed in decorative English vintage-like canisters.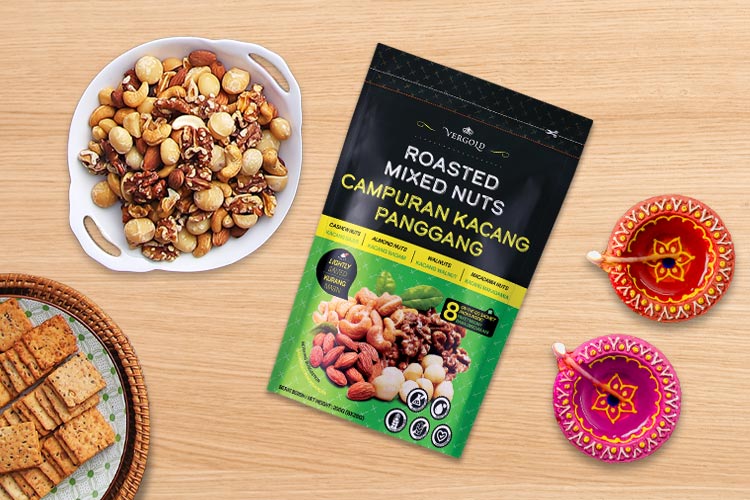 Vergold Roasted Mixed Nuts (25g x 8)
Always a delight, this classic bag of mixed nuts contains an awesome combination of premium natural nuts such as almonds, cashew nuts, macadamias and walnuts. Highly nutritious, the nuts are dry-roasted and just lightly salted. Perfect as an on-the-go snack for daily consumption too.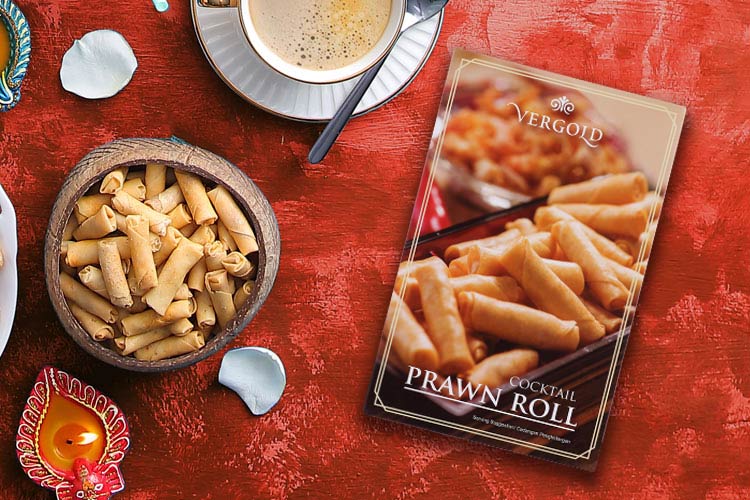 Vergold Prawn Rolls (190g)
Imagine that satisfying crunch as you sink your teeth into these crispy bite-sized treats. Made with spicy minced dried prawns lovingly wrapped in thin pastry skin, these delectable prawn rolls are sure to please any guest, Malaysian or non-Malaysian.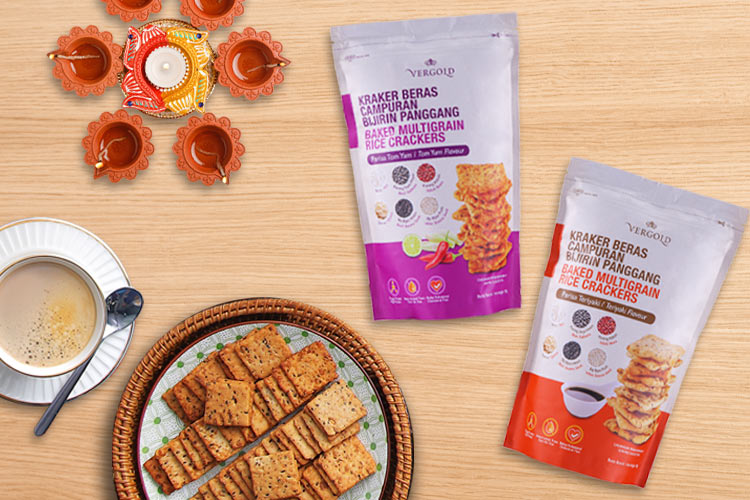 Vergold Baked Multigrain Rice Crackers (Teriyaki/Tom Yum) (90g)
Bursting with flavour, the Vergold Baked Multigrain Rice Crackers are wholesome and nutritious. They make tasty snacks and are also a fantastic option to add more crunchy texture to your meals. With tempting Teriyaki and Tom Yum flavours, these rice crackers are made with non-GMO ingredients and gluten-free to accommodate most diets.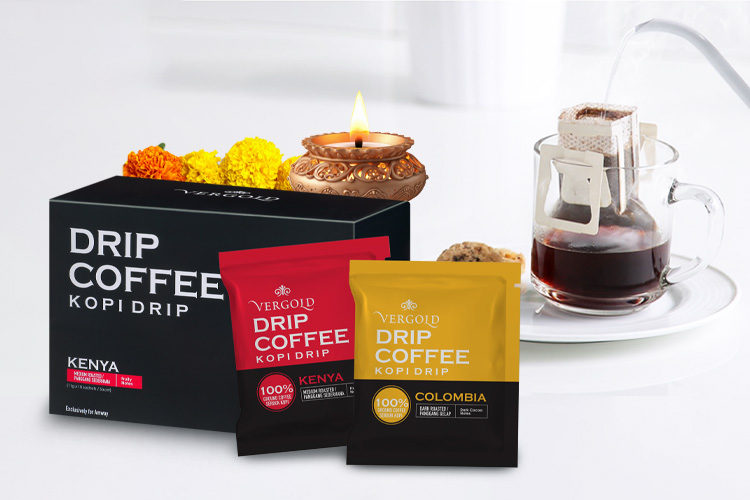 Vergold Drip Coffee (Medium & Dark Roasted) (20 sachets)
Who says you have to choose between medium or dark roasted coffee? This clever pack contains two wonderful variants of drip coffee, which are medium roasted Kenya AA (10 sachets) and dark roasted Colombia (10 sachets).
Sip on the medium roast for a well-balanced coffee with natural sweetness and acidity, or awaken your senses with the taste of dark roasted cocoa in a strong black coffee, full-bodied with deep Americano notes. Fantastic for those who prefer healthier beverages, the 100% ground coffee contains no added creamer, sugar or flavouring so you can savour coffee flavour at its finest.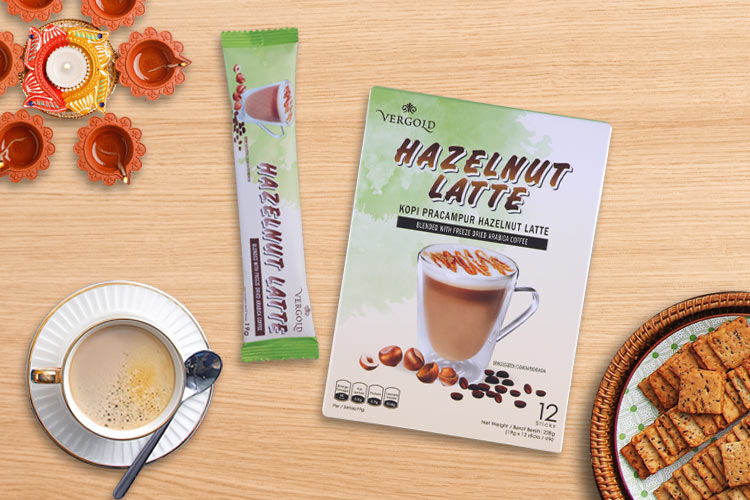 Vergold Hazelnut Latte (19g x 12 sachets)
You'll love the rich nutty aroma of this 3-in-1 latte. It tastes like a fresh brew, blended with premium freeze-dried Brazilian Arabica Coffee Beans that are high in protein and fibre, and low in cholesterol. Cocoa powder and dairy milk powder further enhance its flavour, making it a luscious cup of comfort to enjoy any time of day.
Happy Deepavali!
Available at Amway.my