Why A Pressure Cooker?
Before we get into the nuts and bolts, for those of you who doesn't have a pressure cooker, we recommend you get one. Trust us, it's worth it.
The Noxxa Electric Multifunction Pressure Cooker is an airtight cooking device that cooks food quickly, thanks to the steam pressure that builds up inside. The steam also keeps the food moist, which is why this device is perfect for meat stews, mashed potatoes and even cheesecakes.
A versatile kitchen appliance, slow-cook, steam or stir-fry your meals all using the same cooker. The upgraded Pressure Cooker also has an auto pre-set meal options which makes cooking so much easier. The LED display has lighted buttons while food is kept warm up to 12 hours. Choose between a choice of high or low pressure and pressure cook your meals for up to 4 hours in the 8-litre non-stick pot.

Regular Maintenance Preserves Your Cooker
Like any appliance, using the Cooker daily will eventually result in wear and tear. The lid might get loose or a part might break.
Instead of ignoring it, nip the problem in the bud and avoid the pressure that builds from using a Cooker with broken or loose parts. All it takes is a little effort on maintenance and this ensures your trusty Cooker remains useful in preparing delicious meals for you and your loved ones.


Common Wear & Tears You Need to Know

1. Damaged Power Cord/Socket
2. Loose/Discoloured/Hardened/Torn/Cracked/Broken/Dislodged
Silicone Gasket
Anti-Blocking Cover
Floating Valve Gasket
Regulator Knob
Pressure Safety Valve
3. Food Build-Up within Parts


Important Safety Measures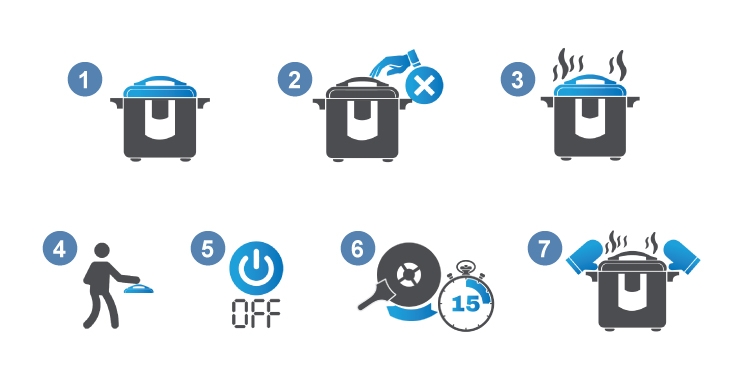 Close the lid BEFORE using any function (except for Stir Fry). When using Stir Fry, don't place the lid on the cooker.
NEVER remove or force open the lid while cooking under Pressure function.
Don't touch the lid during the cooking process as the stainless-steel surface will be extremely hot.
Take extra caution when removing lid by moving it away from you.
Ensure unit is switched off BEFORE releasing pressure to open the lid.
When cooking beans/grains with the Pressure function, don't release the pressure immediately. Allow the pot to cool for 15 minutes BEFORE releasing pressure.
Remember to use oven mitts when releasing pressure as steam from the cooker will be hot.


Don't Wait Till It's Broken. Service Your Unit Regularly.

Regular service ensures safety.
Worn & torn? Replace the parts.
Don't use the unit when parts are not in original working condition.

Want to service your Noxxa Pressure Cooker? Visit the nearest Amway Shop or contact 03-7946 2800 for more information.