Let's be honest ladies, we know in our hearts that every day is Women's Day. But since we only get one official day a year, let's use that day to empower and support the mothers, sisters, wives and daughters around us.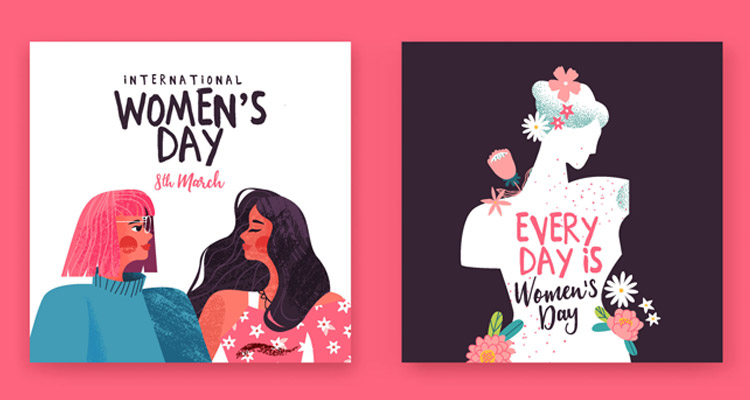 This March 8, on International Women's Day, show your support for the beautiful ladies around you by boosting their wellbeing with these Nutrilite supplements.
For Pretty Princesses To Grow Strong And Smart
Little princesses (and princes) who are growing need ample nutrition to grow strong and healthy, so give your little ones a leg up with the Nutrilite Children Multivitamin And Iron Chewables. Each tablet contains 10 essential vitamins and iron that are specifically formulated to help children meet the needs of their growing body and boost immunity.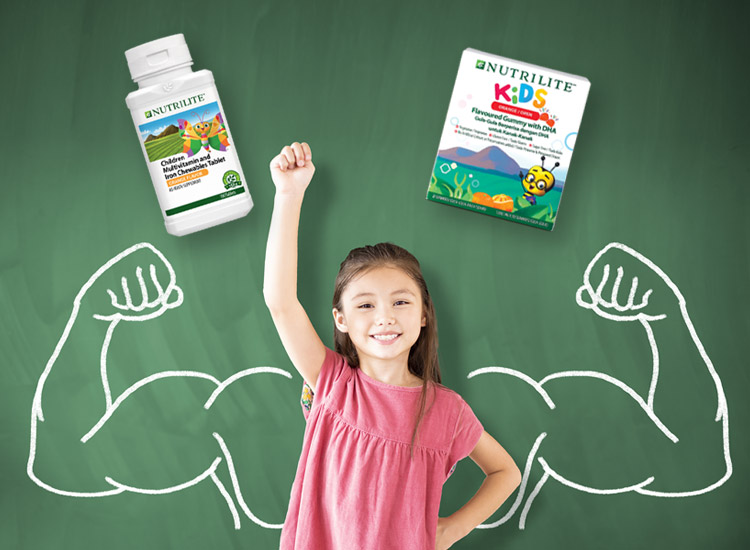 (MAL19910382X)
Follow that up with the Nutrilite Kids Orange Flavoured Gummies with DHA that helps ensure your child consumes enough DHA. Known as brain food, DHA is the main component of brain tissue, so it is indispensable for brain function and eye health. Available in the form of gummy vitamins in a delicious orange flavour that kids will love, these supplements for kids are a safe and reliable source of DHA.
Tip: Nutrilite also has two other kid supplements you should check out: Nutrilite Kids Chewable Calcium Magnesium and Nutrilite Kids Chewable Natural C.

For Young Ladies Ready To Bloom
As children grow, their nutritional needs start to differ. So, for teenage daughters, the Nutrilite Soy Protein Drink and Nutrilite Bio C Plus All Day Formula is great to have on hand.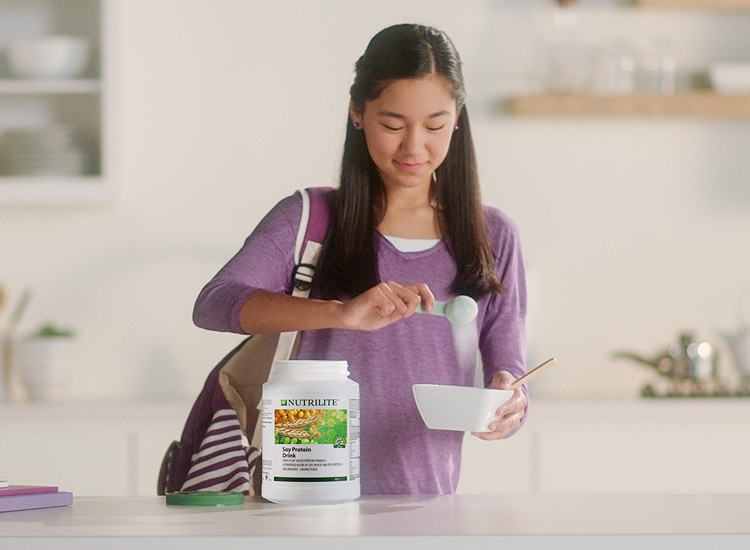 The Nutrilite Soy Protein Drink Mix comes in a yummy berry flavour that is brimming with proteins that are necessary for glossy, strong hair and great skin. Made with highest-quality proteins, 9 essential amino acids and calcium from non-GMO sources, this soy protein powder is vegetarian-friendly and low in fat.
Meanwhile, the Bio C Plus is packed with acerola cherries that are harvested green for its high levels of vitamin C. Apart from trying not to catch a cold, ensure your teenage daughters improve their skin health and strength by providing their bodies with sufficient amounts of vitamin C, essential for the formation of collagen. Collagen also promotes wound healing.
For The Working Woman's Energising Boost
If you're juggling a career, relationships and motherhood, it's no surprise that you feel drained and stressed. Combat fatigue and give yourself an energising boost with the Nutrilite Natural B Complex. This multivitamin for women contains seven different types of vitamin B to bring balance and an extra boost to your mood for improved overall wellbeing.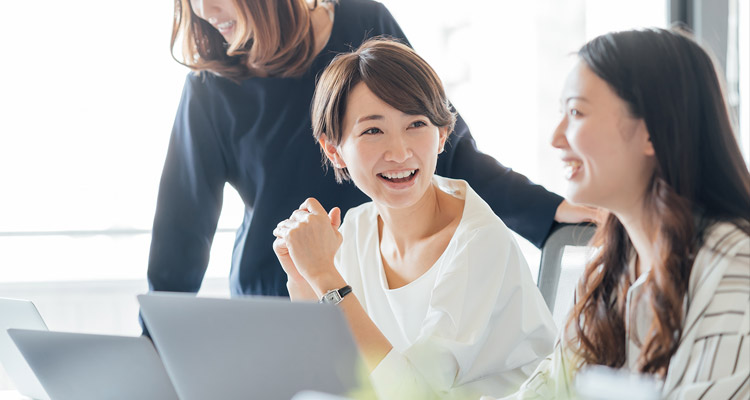 Alongside your Natural B Complex tablets, fortify your health with the Nutrilite EPO Plus. Packed with essential fatty acids from evening primrose oil and borage oil, Nutrilite EPO Plus is a menstrual supplement that helps relieve discomfort associated with menstruation and soothe hormonal imbalances during your cycle.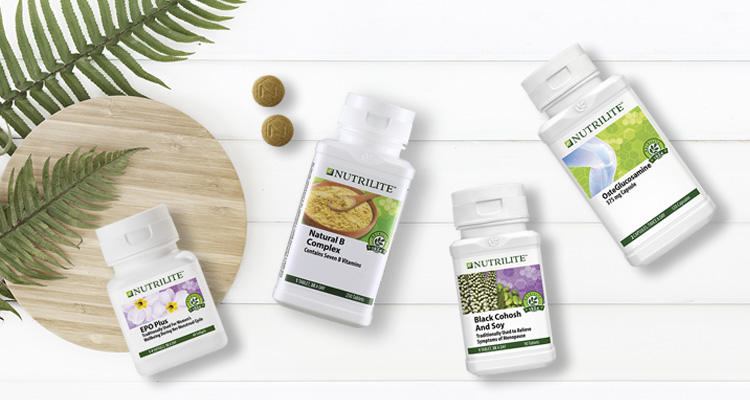 (MAL05012340T, MAL19913315X, MAL09032138T, MAL16025024X)
For The Women Who Define Wisdom And Elegance
As we grow older, our body's needs change, so keep up with your different nutritional needs during the later years, take a peek at the Nutrilite Black Cohosh and Soy. Formulated specifically to help cope with the symptoms such as headaches, hot flashes and mood changes, this supplement provides the essential nutrients your body needs during this transition.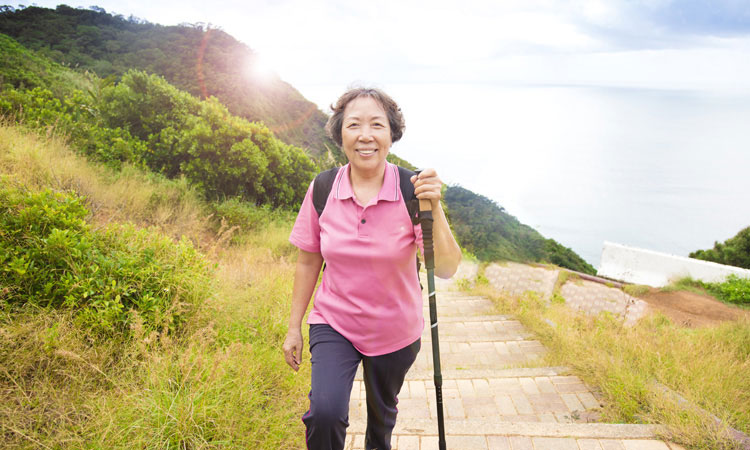 While you're at it, pay attention to your joint health with the Nutrilite OsteGlucosamine. Suitable for those suffering from osteoarthritis or simply normal joint pain due to wear and tear, Nutrilite OsteGlucosamine contains active glucosamine that may be effective against reducing pain and helping with joint repair.

There you have it! No matter which stage of life you're at, Amway and Nutrilite has your back with a wide range of reliable supplements to boost your health and wellbeing.