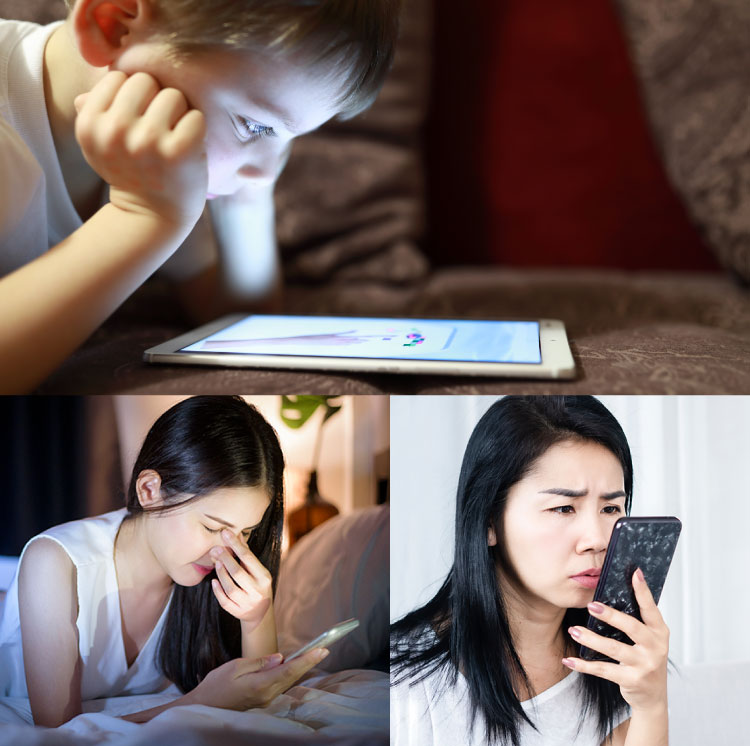 We spend an average of 3-12 hours a day on our electronic devices. That's right! It's not just the adults who spend around 8 hours at work staring at their screens, but the kids are doing it these days too. Whether it's scrolling through Facebook on your phones or catching up with your latest TV show on Netflix, it's an eventuality that you experience some of the following symptoms:
Eye fatigue
Dry eyes
Blurry vision
Frequent headaches
Short-/long-sightedness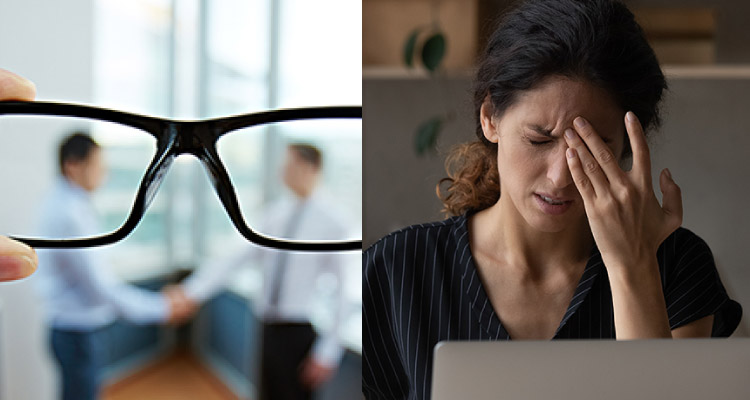 Blue light is everywhere (sources include from the sun and digital devices), but our eyes aren't very effective when it comes to blocking it. Hence, prolonged exposure can lead to:
Cataracts
Blurry vision
Eye strain
Dry eye
Macular degeneration
Blue light also affects sleep. Usage of electronic devices at night can affect the release of melatonin, the sleep hormone. This can cause a person to experience difficulty falling asleep and staying asleep.
As such, prevent damage to your retinas by learning and incorporating important nutrients and supplements that contribute to eye health.
Improved by Herbal Wisdom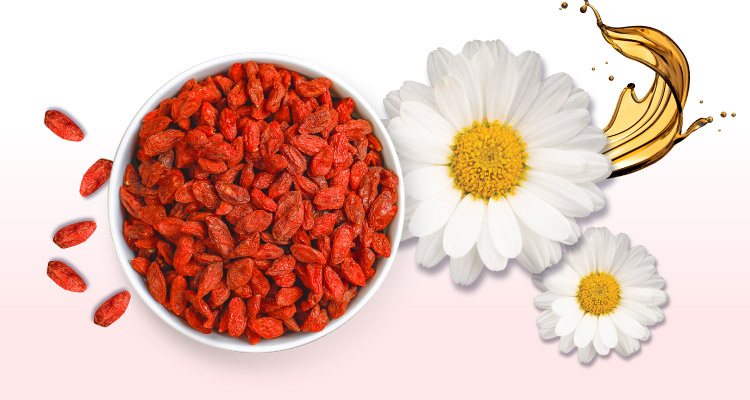 Wolfberry — You've probably seen these little red fruits floating in traditional Chinese soups and desserts. Also known as goji berries, the wolfberry has had a long history of use in traditional medicine. Chinese wolfberries are known to contain high levels of zeaxanthin and beta carotene, which is another great antioxidant. It has traditionally been used for eye and skin health, and overall immunity.
Chrysanthemum — Chrysanthemum flowers have also been used for over a thousand years for its medicinal properties, including its rich antioxidant components derived from lutein and high Vitamin A and beta carotene content. Both of these are vital to eye health, and are essential to protecting against retinal neuropathy, macular degeneration, and cataracts.
Perfected by Science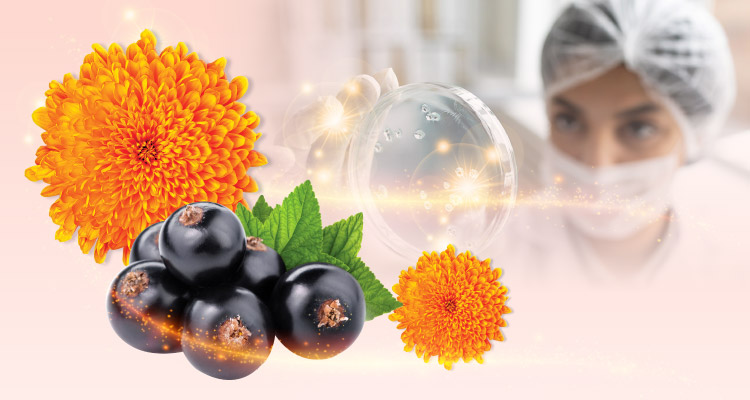 Marigold flowers have had a long history in apothecary and traditional medicine, often used in salves, teas and extracts to treat digestive issues. Its properties (lutein and zeaxanthin) have been shown to not only act as a natural antiseptic, but also protect your vision by shielding the delicate layer of your eyes from the effects of UV rays and oxidative damage.
The US National Eye Institute has recommended that a 5:1 golden ratio of lutein: zeaxanthin is needed for improving your vision. Hence, its best to find supplements that meet this criterion.
Blackcurrant — Like many berries, blackcurrants are rich with vitamins and minerals, as well as antioxidants. Blackcurrant especially has a high concentration of key ingredients like anthocyanins, vitamin C, and gamma-linolenic acid (GLA). All of these are known to improve eye functions. Fend off dry eye, improve blood circulation to the eyes and ease eye fatigue with blackcurrants.
In a nutshell, these nutrients will help protect your eyes against blue light, fatigue and dryness!
Modern Herbal Nutrition with Nutrilite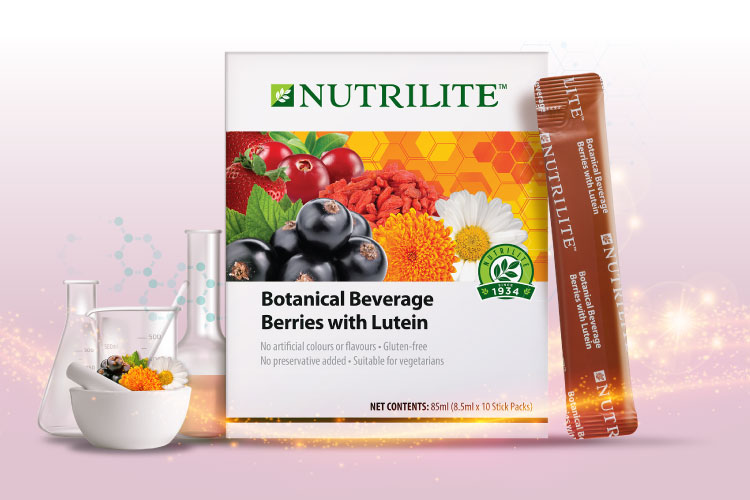 Get the best of herbal wisdom and modern science with Nutrilite Botanical Beverage Berries with Lutein! Combining the great benefits from time-tested herbal ingredients with the wonders of modern technology, we've created a high-quality supplement to support your eye health.
Each portable easy-tear liquid stick pack is made with no artificial flavours, colourings or preservatives and are gluten-free and vegetarian-friendly. Suitable for kids aged 3 and above. Herbal and botanical ingredients of the highest quality are processed with microencapsulation technology, which improves absorption to ensure that you are getting the optimal amount of nutrients.
Read the eLeaflet here
Watch the video here