Washing dishes is a real chore, but believe it or not, a great dishwashing liquid that is powerful and effective yet safe and gentle can make it a more enjoyable experience for you and your family. Just take a look at our much loved DISH DROPS Concentrated Dishwashing Liquid.
Best of all, did you know that you can use it to clean other things besides dishes, cutlery and cookware? Talk about value for money! Here are some other ways you can reap its multi-purpose benefits: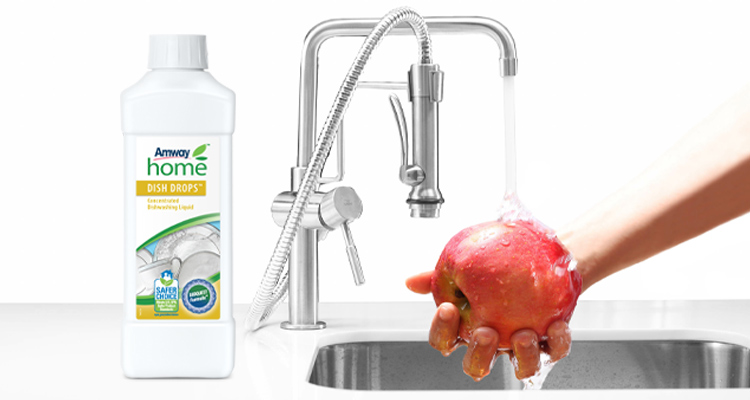 Wash your fruits and vegetables
You don't know where they've been and how many people have handled them from farm to market to kitchen. Dilute a few drops of the dishwashing liquid in a basin of water, then soak the fruits and vegetables for a few minutes (no more than 5 minutes, please). Rinse well before eating.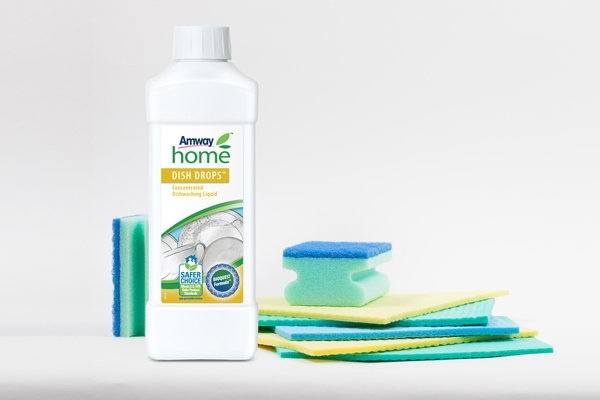 Keep sponges and dishcloths hygienic
Rinse your used sponges and dishcloths with hot water. Next, add ¼ capful (or two pumps from the AMWAY 1-Litre Pump Dispenser) of the dishwashing liquid to your sponges and dishcloths. Squeeze firmly to distribute the product and leave until next use.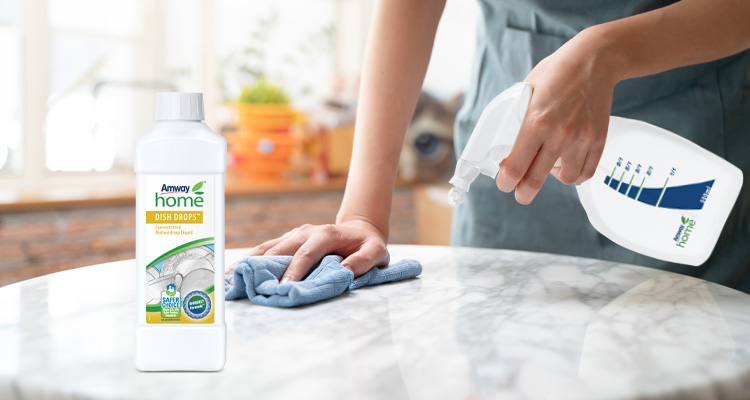 Remove dirt from outdoor furniture
Fill the AMWAY HOME Pistol Grip Sprayer with warm water and add just a few drops of the dishwashing liquid. Then comes the fun part – simply spritz away! Wipe off all the yucky dust and grime with a damp cloth and allow the surfaces to dry naturally.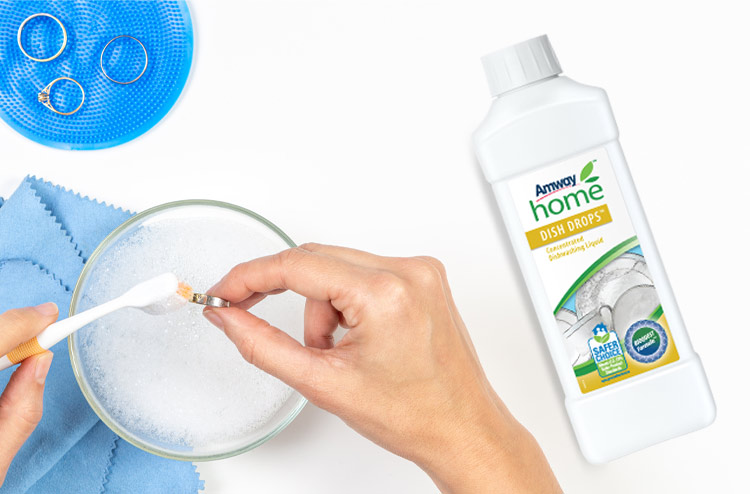 Safely clean your precious jewellery
If your bling-bling is losing its sparkle, try this. Mix a few drops of the dishwashing liquid in a bowl of warm water. Soak your jewellery for just a few minutes. Gently brush it with a soft toothbrush. Rinse thoroughly and wipe dry before storing. Shine on!
Bonus: Bye bye, fruit flies
Fresh fruit attracting pesky fruit flies to your nice clean kitchen? Add 3 drops of the dishwashing liquid to a bowl of vinegar and place it out on your kitchen counter. The uninvited pests will get trapped and drown in this soapy solution, leaving your kitchen pest-free.
Why DISH DROPS Concentrated Dishwashing Liquid?
The DISH DROPS Concentrated Dishwashing Liquid is made with highly active bio-based ingredients derived from natural sources such as coconut, citrus fruits and minerals. It is powerful and highly concentrated for effective cleaning, but gentle on your hands and safe for daily use too.
While its long-lasting suds easily get rid of grease and even dried-on mess, its mild surfactants protect both your skin and the environment. Extracts of aloe vera soften and soothe, while anti-inflammatory botanical shiso and alphy hydroxy acid safeguard your hands.
Apart from its biodegradable and dermatologically tested BIOQUEST formula, you will also love the fresh citrus scent that controls unpleasant odour and invigorates your senses.
Just a little bit goes a long way. Simply dilute one part of the DISH DROPS Concentrated Dishwashing Liquid with one to five parts of water in the AMWAY HOME Plastic Squeeze Bottle, arm yourself with some DISH DROPS SCRUB BUDS Stainless Steel Scouring Pads and you're ready to go.
Look out for more cleaning hacks on AmwayNow.my