What is muesli?
Muesli refers to a cereal blend of whole grains, nuts, fruits and seeds, commonly consumed for breakfast. It was first introduced circa 1900 in Europe by Dr Maximilian Oskar Bircher-Benner, whose recipe consisted of raw apple, nuts and oats with water, lemon juice and condensed milk.
Today, muesli has evolved to include a variety of ingredients, with some blends even designed to cater to specific dietary needs such as gluten-free or vegetarian.
Why is muesli a healthier option compared to other cereals?
The primary ingredients of most muesli blends are oats, dried fruits, nuts and seeds, all of which are known for their multiple health properties. Many commercial cereal blends are highly processed and usually high in added sugar and extra calories.
Is muesli a better breakfast?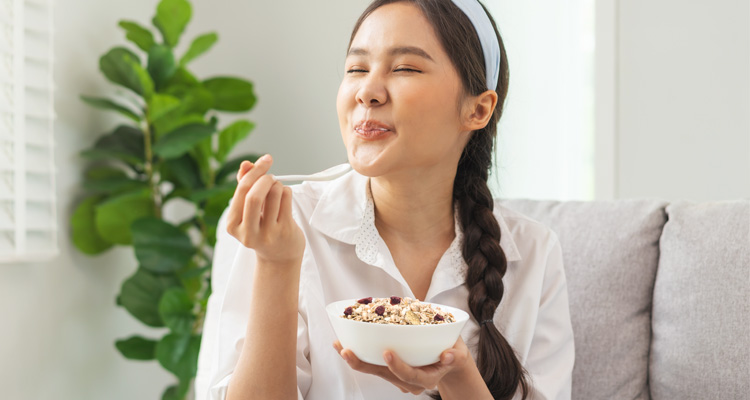 As opposed to nasi lemak and sugar-glazed pastries? You bet. Muesli is low in fat and sodium while also being high in protein. In addition, its high fibre content makes it a good choice for a healthy heart and digestive system.
Introducing the Plant To Table by Nutrilite Organic Muesli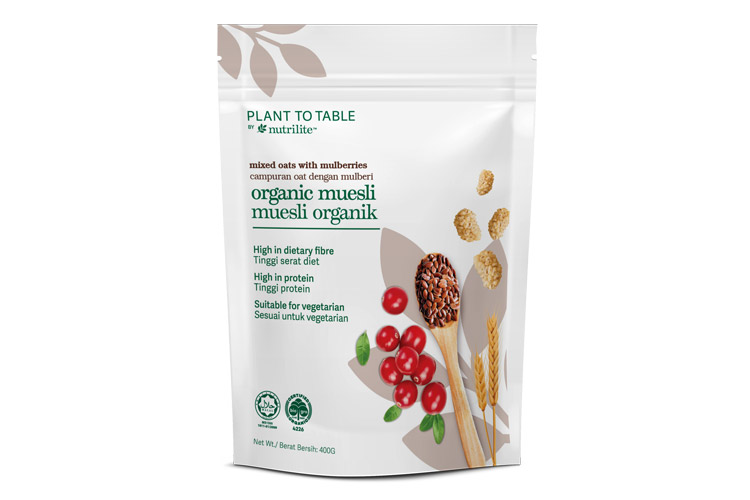 Certified organic, this delicious muesli blend makes a great breakfast cereal for healthy mornings and can also be enjoyed any time of the day. Let's take a closer look at its nutritious ingredients:
Rolled oats, wheat bran and oat bran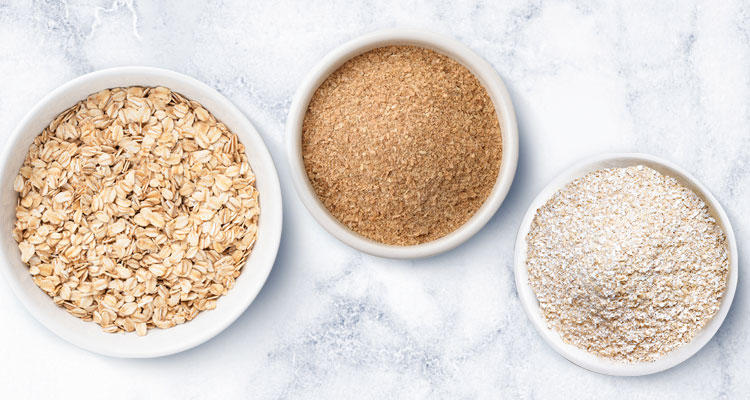 Rich in various plant compounds and minerals, oats and wheat are fantastic sources of fibre, protein, beta glucan and antioxidants.
Pumpkin seeds and flaxseed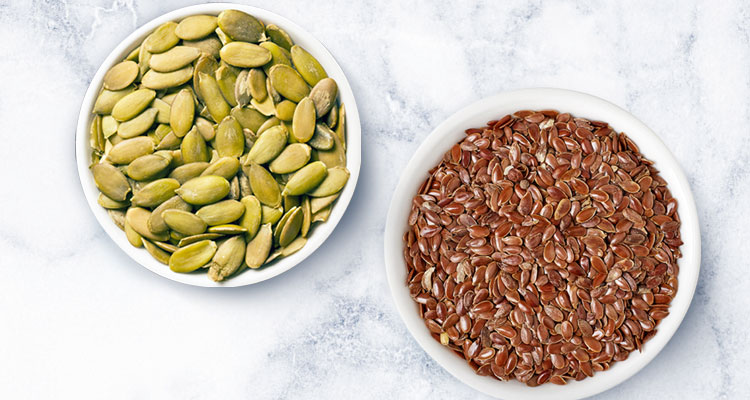 Surprisingly nutrient-dense for an ingredient so small, pumpkin seeds provide significant amounts of healthy fats, magnesium and zinc. Also, just one serving of flaxseed provides a good helping of protein, fibre and omega 3 fatty acids, along with B vitamins and copper.
Dried mulberries and cranberries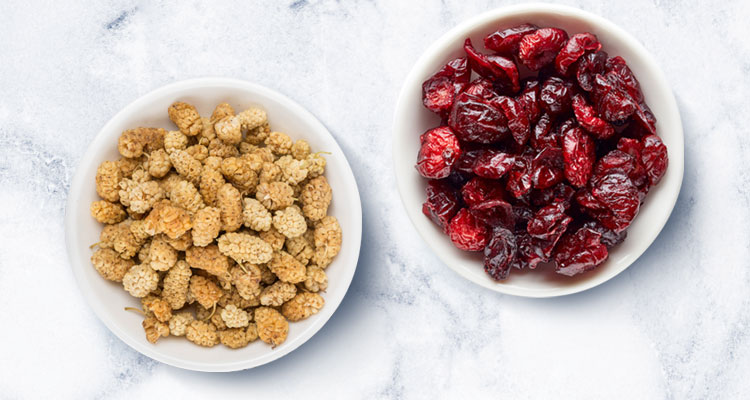 Mulberries are high in protein compared to most berries and rich in vitamin C, iron and potassium, while cranberries contain multiple plant compounds, vitamins C and E as well as manganese.
So, what are the benefits of the Plant To Table by Nutrilite Organic Muesli?
Bursting with nature's goodness in every delicious bite, this nutritious muesli contains potassium and electrolytes for an energy boost(1) to get you through the day.
Vegetarian-friendly, it is high in plant-based protein. Protein is vital to good health as it helps repair and build body tissue, and helps regulate glucose metabolism(2,3).
It is also packed with dietary fibre, which reduces cholesterol levels, improves digestion and bowel movement as well as reduces blood sugar(4,5).
How to enjoy your Plant To Table by Nutrilite Organic Muesli beyond breakfast:
Make the Plant To Table by Nutrilite Organic Muesli part of your healthy eating plan, anytime, any day – get it now at www.amway.my
Look out for more delicious muesli recipes at www.amway.my
References:
Sonawane, Sachin & Anandhan, Anjana & Nair, Tanika & Patil, Sonal. (2018). Plant seeds as the under utilised wealth and nutritional source of booster promoter.

Manoj Kumar, Maharishi Tomar, Sneh Punia, Jyoti Dhakane-Lad, Sangram Dhumal, Sushil Changan, Marisennayya Senapathy, Mukesh K.Berwal, Vellaikumar Sampathrajan, Ali A.S. Sayed, Deepak Chandran, R. Pandiselvam, Nadeem Rais, Dipendra Kumar Mahato, Shashikant Shiddappa Udikeri, Varsha Satankar, T. Anitha, Reetu, Radha, Surinder Singh, Ryszard Amarowicz, John F. Kennedy. Plant-based proteins and their multifaceted industrial applications. LWT, Volume 154, 2022, 112620, ISSN 0023-6438,

https://doi.org/10.1016/j.lwt.2021.112620

LangyanS, Yadava P, Khan FN, Dar ZA, Singh R and Kumar A (2022) Sustaining Protein Nutrition Through Plant-Based Foods. Front.Nutr. 8:772573.doi: 10.3389/fnut.2021.772573.

Rasane, Prasad & Jha, Alok & Sabikhi, Latha & Kumar, Arvind & Unnikrishnan, V. (2013). Nutritional advantages of oats and opportunities for its processing as value added foods - a review. Journal of Food Science and Technology -Mysore-. 52. 10.1007/s13197-013-1072-1.

Kathryn O'Sullivan, Frankie Phillips, Leo Stevenson, Jenny Walton. Wheat bran: its composition and benefits to health, a European perspective. International Journal of Food Sciences and Nutrition, December 2012; 63(8): 1001–1013.