Amway is all about empowering individuals to live their lives to the fullest. This is reflected in our distinctive business approach, as well as in our Nutrilite products that have enhanced the well-being of countless individuals around the world.
In celebration of this, from May until December 2023, we are excited to announce our "Live Your Best" campaign. Our goal is to increase Nutrilite's public brand awareness and favourability, which will give you, our dear ABOs, greater credibility and confidence when introducing the Nutrilite brand and its products. By promoting an active lifestyle, we will be able to revitalise our brand spirit. It's time to reach our health goals together!
Live Your Best
The tagline for the campaign is "Live Your Best", which speaks to Nutrilite's commitment to helping everyone live their best lives. While some may think this is only accomplished through the consumption of products and supplements, we know Nutrilite can offer much more. That's why we're committed to helping people live healthier and better lives by providing long-term solutions.
This extends to our ABOs as well, who champion our brand and products while raising awareness of what we do and the solutions we offer. At Nutrilite, we strongly believe that 'Health is Wealth', because with good health, you are ready to achieve all you set out to accomplish!
Our National Heroes
The brand's passion to help the community go beyond of what is expected, much like their athlete brand ambassadors. The brand ambassadors selected for this campaign are Goh Sze Fei, our national shuttler; Nur Dhabitah Sabri, our national diver; and Shahrul Saad, our national footballer. These athletes were chosen for their passion, success in their own field, and public-friendly image, all of which align with Nutrilite's brand spirit.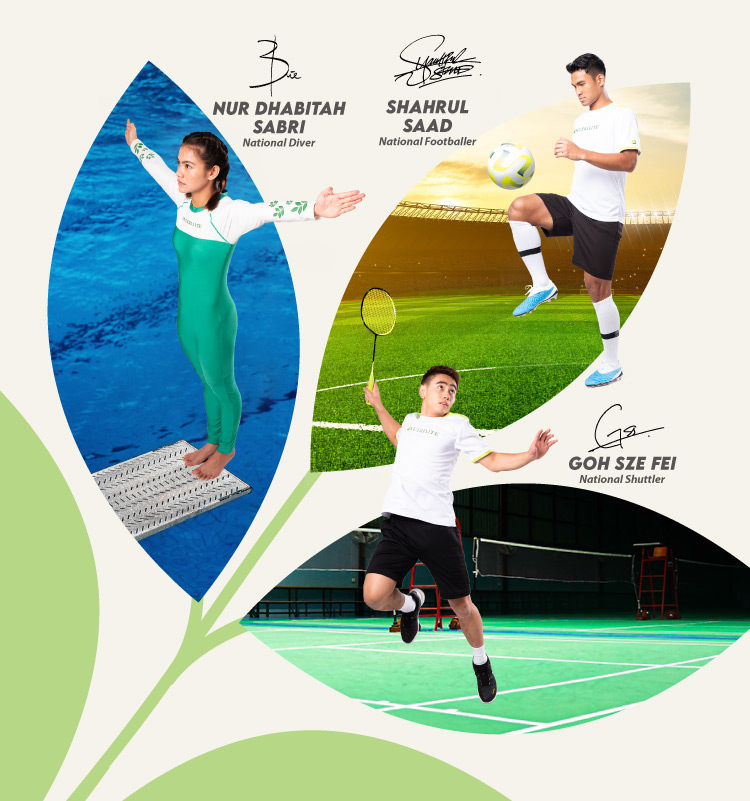 Goh Sze Fei, who placed 3rd in the Malaysia Open 2022, is a rising star in the badminton world. Nur Dhabitah Sabri, who also placed 3rd in the World Championship 2022, is a promising young diver who has already made a name for herself in the international diving scene. Shahrul Saad, who led JDT FC to win the Super Cup 2022, is a skilled footballer who is well-loved by many football fans in Malaysia.
We have also produced a brand video featuring the three national athletes, which is being launched digitally nationwide. The video showcases the athletes' dedication to their craft and how Nutrilite has helped them achieve their goals and more. We hope that the video will inspire you and everyone around you to pursue an active and healthy lifestyle. So do share the video with them!
Meanwhile, for more assets to support your businesses through the Live Your Best campaign, visit our Info Hub. You'll find a wealth of resources curated by Nutrilite, to help you get the most out of our campaign.
This is just the beginning of our campaign - think of it as an appetiser. We have more grand plans and ideas in the works, and we're eager to reveal them to you. So, stay tuned for more exciting brand activation activities throughout 2023! You won't want to miss what we have in store. Be sure to share this great news to all your downlines too!